Outstanding Results in Pretoria
Exciting Jazz and Classical Finals at the 2022 UNISA Strings Competition
Founded in 1982, and a member of the WFIMC since 1991, the UNISA International Music Competition has for a long time played an active part in our organisation and has contributed in many ways. The only member on the African continent, it has always been trusted- by Europeans, Americans and Asians alike. It also has been essential in establishing Jazz as a discipline in the Federation. If there was any doubt about its prominence, one only needs to look at the President of the Competition: Dr. Thabo Mbeki is not only in his own country one of the most respected elder statesmen: he served as Deputy President under Nelson Mandela and later became the second President of the Republic of South Africa. An arduous supporter of South Africas cultural development, it was wonderful to see him not only at the award ceremony like so many politicians, but throughout the finals of the competition.
Photo: diginitaries, jury and laureates at the Award Ceremony on 5 February 2022
Bryan Cheng and Mark Lewandowski in front of jury and winners at the UNISA International Music Competition 2022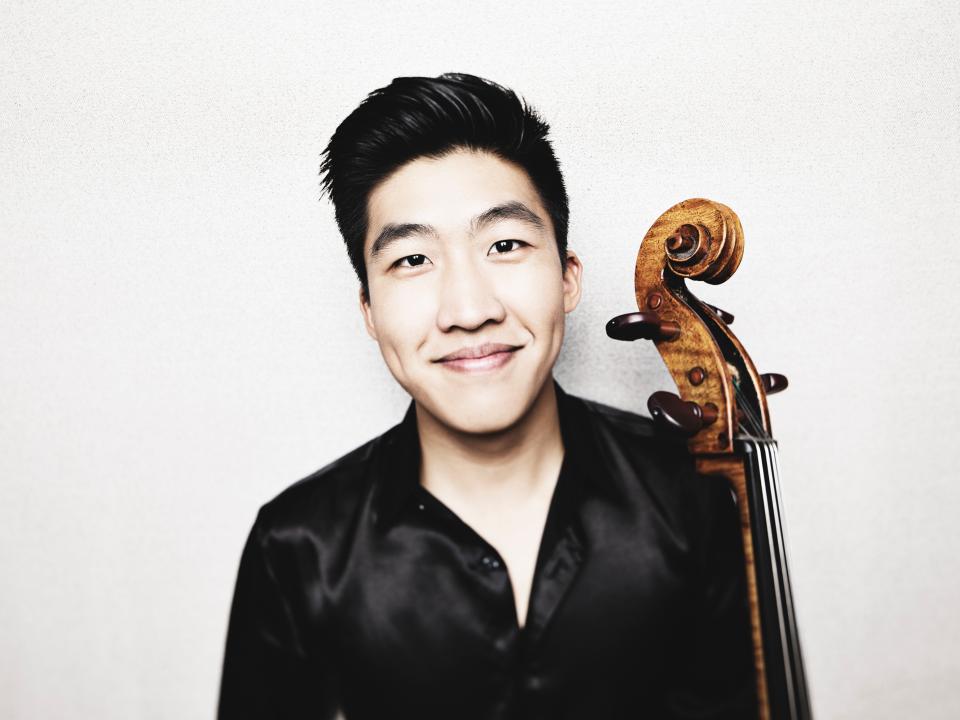 Cellist Bryan Cheng
©Nikolaj Lund
Mark Lewandowski, Jazz Bassist
Preparations for the 2022 competition were greatly impacted by the pandemic: several jury members and candidates had to withdraw from the competition due to travel restrictions, cancelled flights and family members affected by Covid-19. Suppliers experienced serious disruptions; lockdowns stopped preparations; massive currency rate fluctuations increased the cost of flights and accommodation. Yet, the competition experienced a record number of applications both in the Jazz and Classical categories- an impressive fact considering that 2022 was the first time UNISA attempted an international Jazz strings competition.
In the end, the competition showed an outstanding artistic level. The winner of the Classical category, Brian Cheng from Canada, is no stranger in the cello world: he only recently won 2nd Prize and Audience Prize at the Concours de Genève. His Dvorak Concerto showed great experience, impressive technique and charisma. Cheng was followed by cellist Yeon-Kwang Lee from South Korea (who looked younger but actually is two years older than Cheng) and violinist Clara Saitkoulov from France.
In the Jazz category, UK bassist Mark Lewandowski was a clear winner with his outstanding technique and musicality. Antonio Molina Moya from Spain and Benjamin Jephta from South Africa convinced as well with impressive performances.
Winners of the Classical Finals
1st prize, Bryan Cheng (24, Canada)
2nd prize, YeongKwang Lee (26, South Korea)
3rd prize, Clara Saitkoulov (22, France)
Winners of the Jazz Finals
1st prize, Mark Lewandowski (29, UK)
2nd prize, Antonio Molina Moya (29, Spain)
3rd prize, Benjamin Jephta (South Africa)
Jury:
Karendra Devroop (Chair)
Eddy Marcano, Susan Mouton, Ksenia Milas, Hannah Suhyoung Eichberg, Gernot Winischhofer (Classical)
Lazaro Rivero Alarcon, Hein van de Geyn, Bobby Ferrazza, David Gilmore, Mageshen Naidoo (Jazz)
Rhythm Section:
Marc Duby (Bass), Kevin Gibson (Drums), Melvin Peters (Piano)
Orchestra:
The Johannesburg Philharmonic Orchestra
Mariusz Smolij, Conductor