A Ukrainian Competition in Switzerland
Chair of the Horowitz Jury, conductor Kirill Karabits talks about his father, his career, and why it will be meaningful to hold the Horowitz Competition abroad

Kirill Karabits has been Chief Conductor of the Bournemouth Symphony Orchestra for 14 years and their relationship has been celebrated worldwide. Together they have made many critically acclaimed recordings and performed regularly at the BBC Proms. Karabits has conducted major orchestras such as the Dallas, Pittsburgh, Baltimore, Polish National Radio and Prague Radio Symphony. He has also worked with major opera houses in Hamburg, Berlin, Stuttgart and currently works on a production of La Bohème at the Zurich Opera.
Born into a musical family in 1976 in Kyiv, he studied piano and developed an interest in conducting at age 13, while visiting the Lysenko Music School in Kyiv. His father was the renown composer and conductor Ivan Karabyts- a treasured personality in Ukraine.

Kirill Karabits: My father was quite a figure! His works had been performed throughout the former Soviet Union and in some European countries. Unfortunately he died very young, he had a strange, very rare type of cancer, which was discovered very late. It was a very shocking thing for us. He was so active, with his festival, and of course with the Horowitz Competition…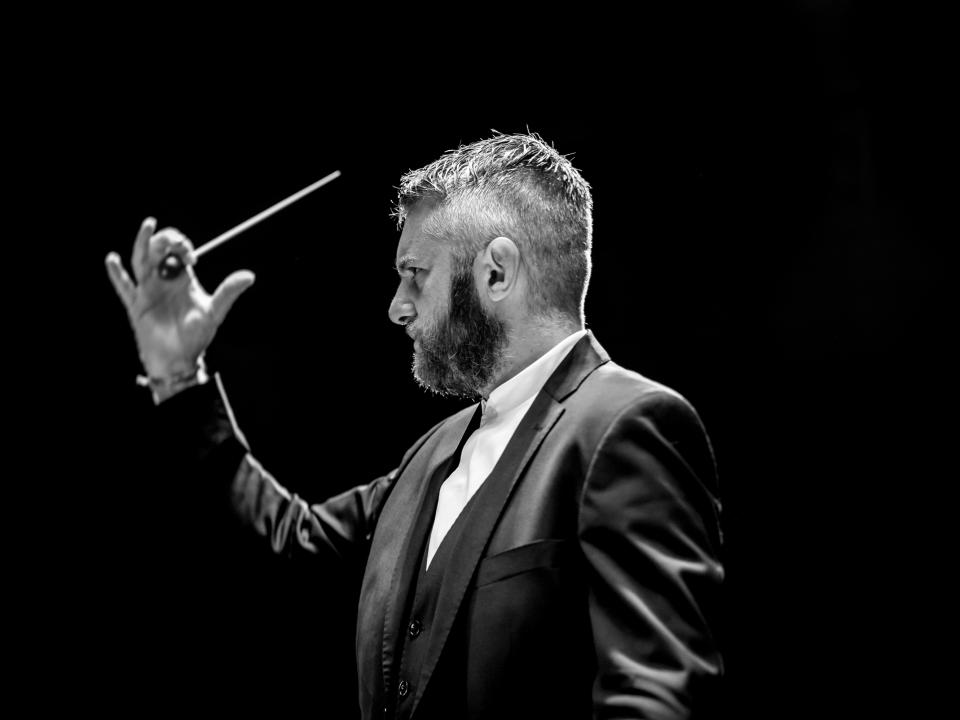 Kyrill Karabits conducting
WFIMC: Ivan Karabits was one of the founders of the competition.
Karabits: Yes, he built it together with Yuri Zilberman,the previous director. Iryna (Polstiankina) was his assistant. When Yuri retired, he left Ukraine and moved to Munich, Germany, and Iryna became director. He is in his seventies, but unfortunately not in very good health.
For my father- I think it "grew" in him, this fascination for a competition. You would not expect this from a composer, but I think it was a number of things that interested him the most: he liked very much the people from the (Gliere) College, he wanted to work with them. They adored him, they very much appreciated his non-engagement, so to speak, because he didn´t come from the piano world. His views were really free from any subjective influence- he was the best judge, because he didn´t have any friends or people who could have pushed him. There was nothing subjective. And then, after several times of hosting the competition, he started seeing a difference in these youngsters and in their playing. He sensed a great opportunity for Ukrainian music to be better known around the world. And he liked of course the fact that Horowitz was born in Kyiv, which nobody really knew at the time.It was really something that the competition brought up! And sure enough, the competition turned out to be a fabulous opportunity for pianists all over Ukraine, and beyond.
WFIMC: Ivan also founded the Kyiv Music Fest?
Karabits: Yes, that was really his baby. He put it together in 1991, four years before the competition.
He was really a great figure in Kyiv….he had studied with Lyatoshynsky, who was the reference composer for Ukraine, a sort of Ukrainian Shostakovich.
WFIMC: Back to the Horowitz. You were still a teenager at the time of the first competition…
Karabits: Yes, I was 19, very young. I have some memories of that time… I think I conducted at two competitions. One of the artists I remember most is Oleksandr Gavrylyuk. He won second prize in 1999, when I conducted.I was a student in Kyiv at the time, and I was conducting the orchestra for the competition. For me it was a really important stage as a conductor!
Today, accompanying pianists is a very pleasant thing for me to do, and I think this is because of the Horowitz Competition. I went though a big shock, you know, having to perform the same concerto with all these candidates, everyone playing differently. I was very young. But this experience made me overcome the barrier working with soloists. I feel very well, even with difficult people. Pogorelich, for example, is not so easy to accompany. But I´ve done Rachmaninov Second Concerto with him without any problems.
WFIMC: Do you have any memories from these early days of the Horowitz?
Karabits: The atmosphere was fantastic! I have many memories from the time. I remember some jury members. And then there was this incredible food they provided: there was a lady, I think she is still alive, and she is still working at the Gliere College. Her name was Nadia, and she was a fantastic cook. Everybode adored the home-made food , incredible Chicken Kyiv, and much more!
The first Competitions were still in the nineties: a difficult time for Ukraine after the collapse of the Soviet Union. So these competition became major cultural events. Very important for the country.
WFIMC: But soon after that you went to Vienna to study, began working with a number of orchestras, and quite soon after you became Chief Conductor of the Bournemouth Symphony. Can you tell me how this happened?
Karabits; This year is my 14th season with them. I came as a guest conductor, and there was some special chemistry happening… This is not something that happens very often.
WFIMC: How is it possible?
Karabits: England has been… well, I spent an important part of my life with that orchestra. I created a circle of soloists, we´ve done some amazing repertoire…unknown pieces, Ukrainian music…
WFIMC: But tell me a bit more about this chemistry thing. Its easy to say just like that, but how does it really happen? How old were you at the time when you were there for the first time?
Karabits: I was - let me think- maybe 31. It´s something that is difficult to explain. Being with an orchestra is like a human relationship. It´s like a person where you feel that there is something there that you cannot explain. And this happened to me… I felt like they made my conduct at my best. Not having to proove myself, I could just easily make music with them the way I wanted. It´s tricky for a conductor, to have 100 people sitting in front of you, looking at you- it puts a lot of pressure on you. So its difficult to overcome this pressure in order to make pure music. And they (the Bournemouth Symphony) made me feel accepted straight away. You could jump into music straight away.
WFIMC: Did this happen to you in other places as well?
Karabits: Rarely on this level. It did, but very rarely.
WFIMC: Back to the Horowitz. What does it mean to you that the competition is happening in 2023, in Switzerland?
Karabits: For Ukrainians its extraordinary how the world has changed for us. We don´t have the same country as before (I am not talking about myself, because my story is a little different). For Ukrainians now, its not the same country, we dont know how the war will end, when it will end- we have a very unstable future, we don´t know how to function. But every problem you face does not only bring hardships- it also creates opportunities. So, for many musicians, the situation will force them out of the country and will make them work abroad. There are some great opportunities for young artists to get noticed- a privilege they didn´t have before. And they should use it- use it to create possibilities for their future. Not only for themselves, but also for their country.
Competitions are always a difficult subject. Music is not about competing with others. This is a difficult thing to overcome. But unfortunately now, there is hardly a better way to find talent than listening to a competition. And I am sure that the different parts brought together in the Horowitz Competition will create a great spirit, a great energy- for Ukrainians the same way as for everyone else, and will enable us to discover some wonderful talent, I am sure. The Horowitz Competition Kyiv-Geneva is a unique project: a Ukrainian Competition will take place in Switzerland. In many ways, it's not just a competition. In the end, it doesn't matter who will be the winner, or where they come from. In the end, the Horowitz Competition will be an investment in the future of our country.
Florian Riem ©WFIMC2022