Two First Prizes in Belgrade
Results from the 50th Edition of the Jeunesses Musicales International Music Competition
23 March 2022. Unusual results at the Jeunesses Musicales International Music Competition in Belgrade: the 50th edition, held in the discipline of cello, ended with a double-First Prize: Joel Geniet (19, France) and Vuk Simon Osvaskainen (20, Serbia/Finland) shared the top prize ex-aequo. Francesco Stefanelli (22, Italy) was awarded Third Prize.
Joel Geniet currently studies in Bern, Switzerland with Antonio Meneses, while Vuk Simon Ovaskainen is a fourth-year student at the Mathematical Gymnasium in Belgrade, as well as a second-year student at the Faculty of Music in Belgrade in the class of prof. Sandra Belić. Francesco Stefanelli is currently studying with Giovanni Sollima at the National Academy of Santa Cecilia in Rome and at the Escuela Superior de Musica Reina Sofia in Madrid with Jens Peter Maintz.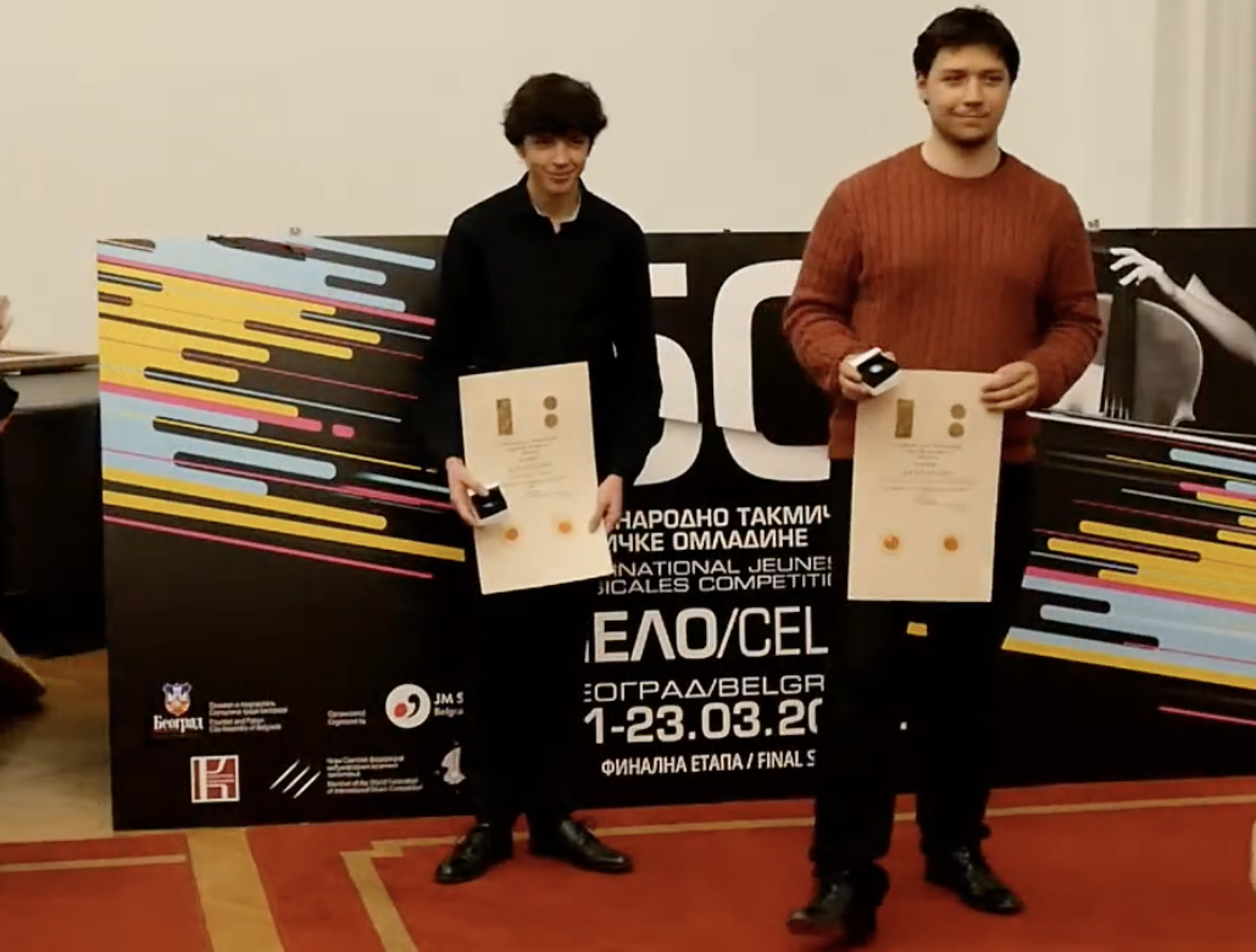 First Prize: Joel Geniet (France)
First Prize: Vuk Simon Ovaskainen
Third Prize: Francesco Stefanelli
Laureates:
1st prize - Joel Geniet (2002, France) and Vuk Simon Ovaskainen (2001, Serbia / Finland)
2nd prize - not awarded
3rd prize - Francesco Stefanelli (1999, Italy)

Jury: Sandra Belić, Dragan Đorđević, Romain Garioud, Xenia Janković, Meehae Ryo, Tobias Stosiek, Götz Teutsch, Giovanni Gnocchi, Denis Severin and Martina Schucan.
Program Selectors: Natalia Gutman, Sandra Bélic

Under the patronage of the City Assembly of Belgrade, International Jeunesses Musicales Competition is held every year in March at the Illija Milosavljevic Kolarac Endowment.
Having been held annually in Belgrade since 1971, the competition rotates every five years between flute, guitar, piano and cello disciplines, but has in the past featured other disciplines such as violin, voice, piano trio and string orchestra.