Stellar winners´ lineup in Tel Aviv
At the Rubinstein Competition, 18-year old Kevin Chen wins second major international competition in six months
Many post-covid piano competitions have been exceptional, and this year's Arthur Rubinstein international Piano Masters Competition in Tel Aviv was certainly no exception. An incredibly diverse pool of candidates, great variety of repertoire, two orchestras plus chamber music: lots of exposure and a very high bar to master for any young artist.
18-year old Kevin Chen from Calgary had won the 2022 Geneva Competition playing Chopin; this time it was his Tchaikovsky that made all the difference as he won First Prize. In the other finals he had played Mozart Concerto No. 27 as well as Brahms´Piano Trio in A minor op. 114.
Outstanding in his own right was Second-Prize winner Giorgi Gigashvili. He was not only an audience favorite at the Rubinstein in 2021, but has also won audience awards at the Tblisi Competition in 2017 and at the Busoni Competition in 2019. In his repertoire was the Prokofiev Third Piano Concerto at the finals as well as Mozart's Concerto No. 20. Remarkable also his encore after the Second Round: Elegy in a minor by Richard Wagner, a favorite of the late Sviatoslav Richter but even in 2023 a controversial choice for an Israeli audience.
Third-Prize winner Yukine Kuroki has recently become a household name too, having won in 2022 both the Franz Liszt intl. Piano Competition in Utrecht and the Dublin intl. Piano Competition.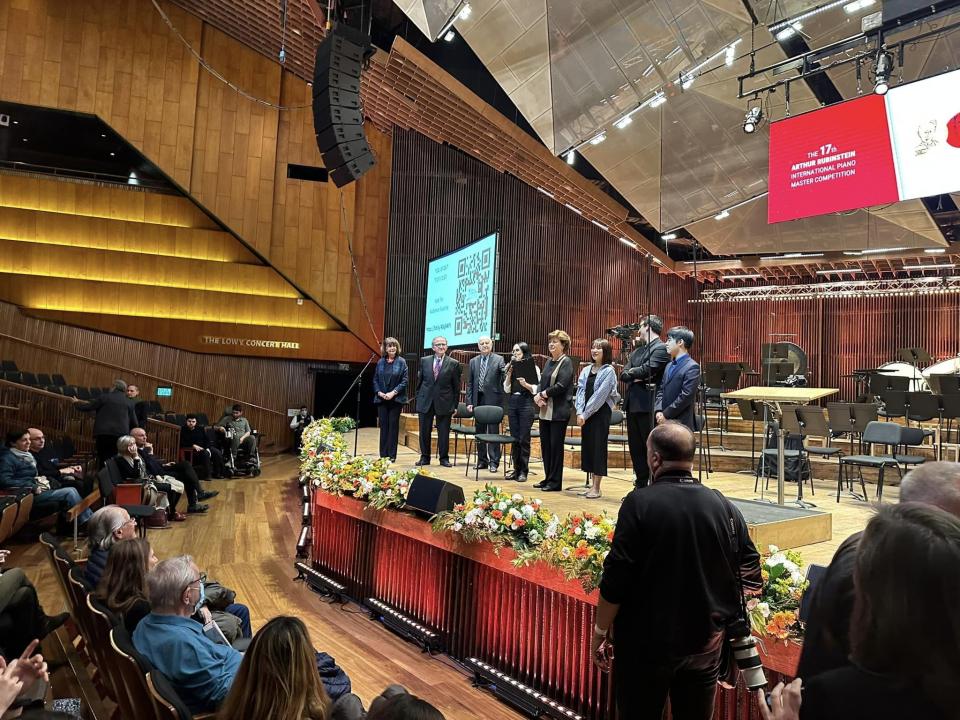 Main Prizes:
First Prize: Kevin Chen
Second Prize: Giorgi Gigashvili
Third Prize: Yukine Kuroki
Jury:
Arie Vardi (Chair), Asaf Zohar, Émile Naoumoff, Janina Fialkowska, Kataryna Popowa-Zydron, Noriko Ogawa, Robert Levin, Ronan O´Hora, Taiseer Elias, Xiaohan Wang, Yoheved Kaplinsky
Artists:
Camerata Jerusalem, Avner Biron, Conductor
Israel Philharmonic, Yoel Levi, Conductor
This year's edition features 36 contestants, aged 18-32, from 18 countries. Much has been said, and written, about the increasing number of top performers from Asian countries, but Rubinstein Competition Director Ariel Cohen is not so sure that is particularly noteworthy.
"Yes, you get gifted musicians coming out of Asians all the time," he says. "The thing is, it is not so clear these days what Asian really means. And it's not just us [Israelis].
"The World Federation of International Music Competitions spends a lot of time talking about denationalization. That means stopping relating to the country of birth as something sacrosanct. You can see someone with, for example, an Australian passport but, in fact, they are Chinese, or someone with an American passport, but they are Korean."
Cohen might have cited Daniel Barenboim. The stellar pianist and composer spent the first 10 years of his life in Argentina, before making aliyah with his pianist parents, and is a longtime resident of Berlin. "There are some who identify strongly with the country in which they live, even though they don't hold the passport, and there are others who feel attached to their country of origin even though they have been living somewhere else for a long time." That is not an alien idea for many olim.
The Lineup for this year's competition reflects that broad spread of genes, cultural baggage and citizenship. "There are quite a few Europeans, and there is one Moroccan, which we are very happy about," Cohen notes. That surprising welcome inclusion refers to 24-year-old now Paris-based Nour Ayadi.
We also have good reason to – pardon the instrumental pun – blow our own trumpet. "There are five Israelis this year," says Cohen. "That's quite a lot. I can't remember the last time we had so many."
The applicants for this year's competition came from far and wide, and in their droves. "We received hundreds of submissions. The quantity of high-quality registrants was astounding," he says. "We normally choose between 32 and 35 competitors. We selected 39, although three dropped out; there are always cancellations." (Excerpt of an article from: The Jerusalem Post, 15 March 2023)
The Rubinstein Competition first took place in 1974 and is held every three years.
Rubinstein himself attend­ed the first two competitions, when the winners were Emanuel Ax and Gerhard Oppitz, renowned pi­anists today.
In 2003 pianist Idith Zvi succeeded Mr. Bistritzky as Artistic Director, a role she fulfilled until her retirement in 2020. Since July 2020, the Artistic Director of the Competition is pianist Ariel Cohen.
The past 40+ years of its history have continuously produced pianists who went on to international acclaim: Gerhard Oppitz, Angela Cheng, Alexander Korsantia, Kirill Gerstein, Alexander Gavrylyuk; Igor Levit, Khatia Buniatishvili, Boris Giltburg, Daniil Trifonov and others.
©WFIMC 2023