Remembering NamYun Kim
Iconic Korean Violinist NamYun Kim passed away last month
One of the great icons of classical music in South Korea, violinist Namyun Kim passed away on 12 March 2023. She was 74. Among the legions of violinists who studied with her, most notably Clara Jumi Kang, Jiyoung Lim, Nurie Chung, and Juyeon Baek, many won major competitions.
Born in Seoul in 1949, Namyun Kim studied at Seoul Arts School with Young Woo Choi; later she went to the United States to study with Felix Galimir and Ivan Galamian at Juilliard. In a 2003 interview with Korea's String & Bow magazine, Kim recalled that 'Professor Galamian was strict, but also kind and gentle. It was hard to be close to him but I felt he loves his students a lot. However, it was hard to gain recognition from him. He never said "good" but just "OK" in response to the playing, and this was his best praise.'

Ji Young Lim with NamYun Kim, after a solo performance with Korean Soloists
Ji Young Lim with NamYun Kim
Ji Young Lim with NamYun Kim
In 1974, Namyun Kim won first prize at the Tibor Varga International Violin Competition in Sion, Switzerland. In an Interview with WFIMC for the 2021 Tongyeong ISANGYUN Competition, where she was chair of the jury, she remembers winning this prize: "I have some bad memories, some good memories... oh well. When I tried Tibor Varga, that competition was quite famous for not giving first prize. Before me, there was no first prize for eight years. So, everybody had been saying "We need a first prize winner!" And finally, I don ́t know how, they gave me first prize. But one thing I remember: I was really impressed by the audience. When they made the announcement, it was almost 1 o ́clock in the morning. And nobody left! The whole audience was still there, because they really wanted to see a first prize. And when they announced the winner, well, I was very tired and somehow not so happy at that time. I couldn ́t really understand what they were saying, they were speaking in French and they pronounced my name in a strange way. But then, somehow I heard them say "Kim!" and I thought, well, that must be it! And then, the audience went really really crazy, shouting...."
NamYun Kim with Koichiro Harada and Lucie Roberts at the Ishikawa Music Academy
As a promising soloist, Kim was invited to perform at many internationally renowned venues such as Carnegie Hall, Lincoln Center for the Performing Arts, Kennedy Center and Sydney Opera House and other major concert halls in Europe and Asia. She also performed with major orchestras throughout the world including St. Petersburg Symphony, Royal Philharmonic, Zagreb Radio Symphony, and others.
Back in Seoul, Namyun Kim found a post teaching at Kyung Hee University (1977–83) and Seoul National University (1984–92). From 1993 onwards she taught at the Korea National University of Arts. She was also the music director of the Korean Soloists ensemble and gave masterclasses at Yale University, Manhattan School of Music, Indiana University Jacobs School of Music,  Toho Gakuen, Beijing Conservatory, Tibor Varga Academy, Escuela Superior de Música Reina Sofía and others. As a juror, she served at international competitions including Brussels, Genoa, Helsinki, Cologne and Tokyo.

Kim became a member of the National Academy of Arts of the Republic of Korea in 2016. In recognition of her achievements both in Korea and abroad, she was given the Nan-Pa Music Award and the Ok-Kwan Medal by the Korean government.
Clara Jumi Kang
What comes to mind first when you think about Namyun?
Her perfume smell - she always smelled of flowers.  Her sense of humour - she was extremely witty. 
Do you have any particular memory of Namyun you could share? Some event where you remember her that is characteristic of her? 
She was extremely caring - for example, she would always ask if we had eaten and we would all eat lunch together - even when we had not done well in our lessons.
What was her secret to be so successful as a teacher? What did she do different, or what set her apart?
She was very uncomplicated person but then at the same time a very complex person. I think that element made her such an impeccable teacher and set her apart.
She would encourage us to grow our own imagination. I can say with no doubt that all her students - none of us made music in similar ways. You could not say by hearing our playing that we were Namyun's students. Our work ethic that we learned from her- hours and hours of practicing and the level of consistency and concentration - this we all shared. There you could sense that this person had been coached by Namyun Kim.
Ji Young Lim
She was a teacher with a burning passion, a passion she gave to all her students. The love, music, and passion for life she gave so generously, will be deeply respected by the Korean music world, including myself, for a long time.
Nurie Chung
I still can't believe that the relationship with my teacher, Nam Yun Kim, lasted only 10 years and suddenly came to an end like this. To me, she was like a guiding star in the desert, showing me a wider world of music. She always used to say that I should eat well in order to play the violin better, and I still remember the way she said it. I will never forget all the love she gave me. It hurts me so much to know that I can no longer meet her, or listen to her voice. I am truly grateful having been her pupil, and for her being my teacher. 
Rest in peace!
 
Lucie Robert, New York
This is how I met my dear friend and colleague Nam Yun Kim.
The year was 1989, I had been invited to teach at a summer festival in Kangnûng. I was newly appointed to the faculty of the Manhattan School of Music and this was my first trip to Korea. While at the festival, I kept hearing one young violinist after the other who were absolutely amazing. They were all incredibly well-trained with superior technical command regardless of their age, coupled with strong musical temperament and beautiful expressive tones. I would ask, "who is your teacher?",  and every time they would answer, "Ms Kim, Nam-Yun!". I knew I needed to meet her.
She invited me on my way back to New York to give a class for her students in Seoul at her then, "studio on the hill" as she called it, and listened to my teaching.
After the class, we went out for a delicious Korean barbecue feast, the first of many to come and after much discussions, she asked if I wanted to go to the spa with her, which I did. After our time at the spa, she took one look at me and with her infamous grin said, "Good, now you are Korean!".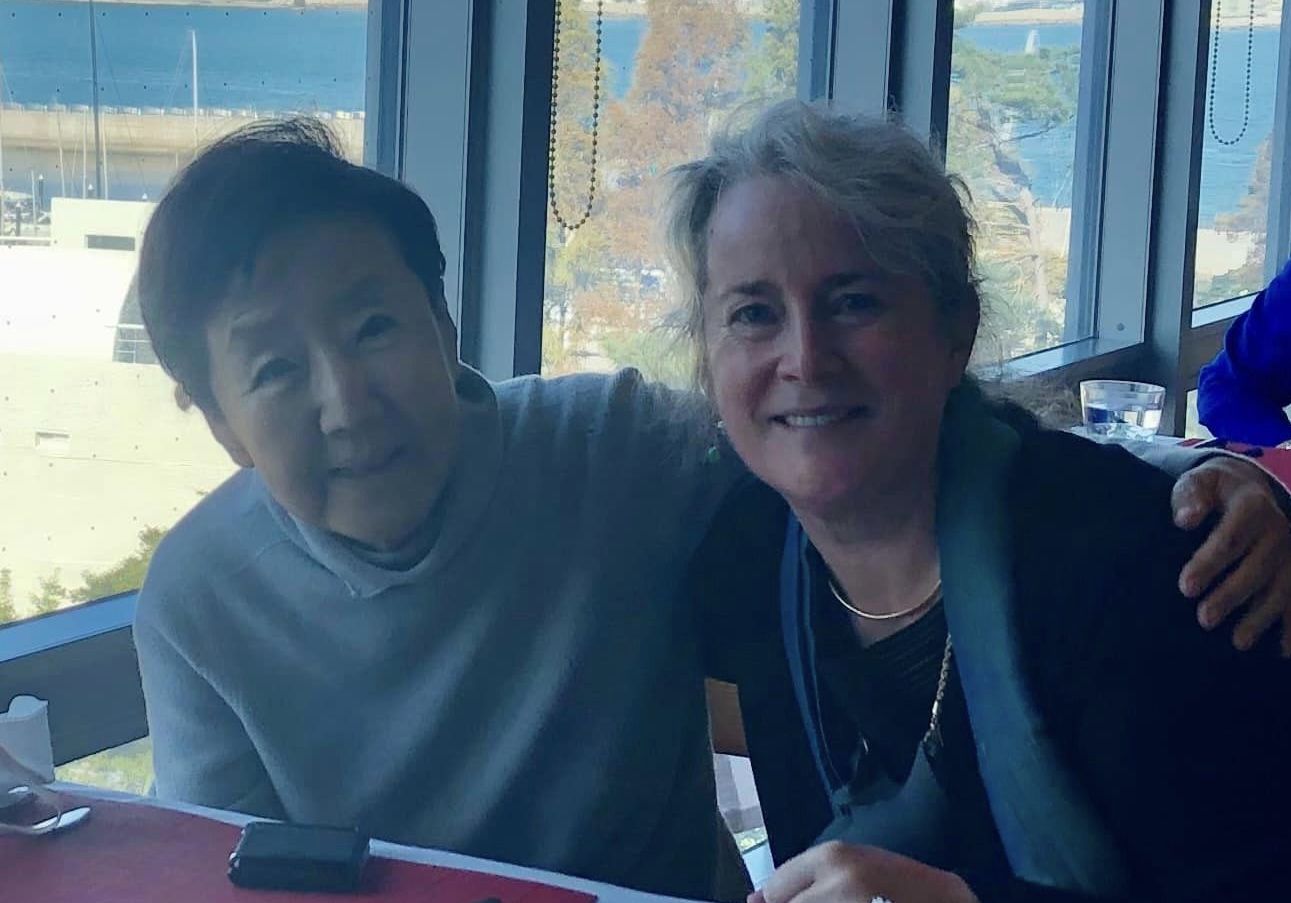 My friendship and deep admiration for Nam Yun lasted throughout the years and never diminished.
The history of the violin will forever be linked with her name for the extraordinary contribution she made to our instrument.
I will miss our discussions, her no-nonsense remarks that were always straight to the point, her sense of humor, her laughter.
Rest in peace dearest friend, you will be greatly missed!
©WFIMC 2023/FR