Music Out of Africa
The rise of South African music and musicians to the global stage: impressions from the WFIMC Regional Conference in Pretoria.
By Sarah Bétrisey
When I arrived in Johannesburg, I had no idea what my journey was going to be like, although I expected some kind of "Madeleine de Proust"- a sweet memory of my childhood, as we say in French. I was raised in Africa, not at the southern tip, but at the horn of the continent, Addis Ababa, Ethiopia. I left my father's country when I was 12 and went back as an adult only once for a few weeks, thinking I could somehow reconnect with my childhood. I did not.

Travelling to South Africa several decades later, I would discover a totally different country. Versatile and eclectic in every aspect of its history, its people, and its music. Sure, I recognized the trees, the grass, the red soil, the wide and deep blue sky. They seemed almost the same. The animals of course, mostly the ones living in the wild, not in parcs - surprising us at the turn of the road, like baboons and ostriches, like the endless kinds of colorful birds …. or the pride in the people's speech and in their expressions, which seemed familiar.
So, I felt like another "Scatterling of Africa", an exiled soul. But in the end, we all are, aren't we? Africa has always been called the cradle of humanity.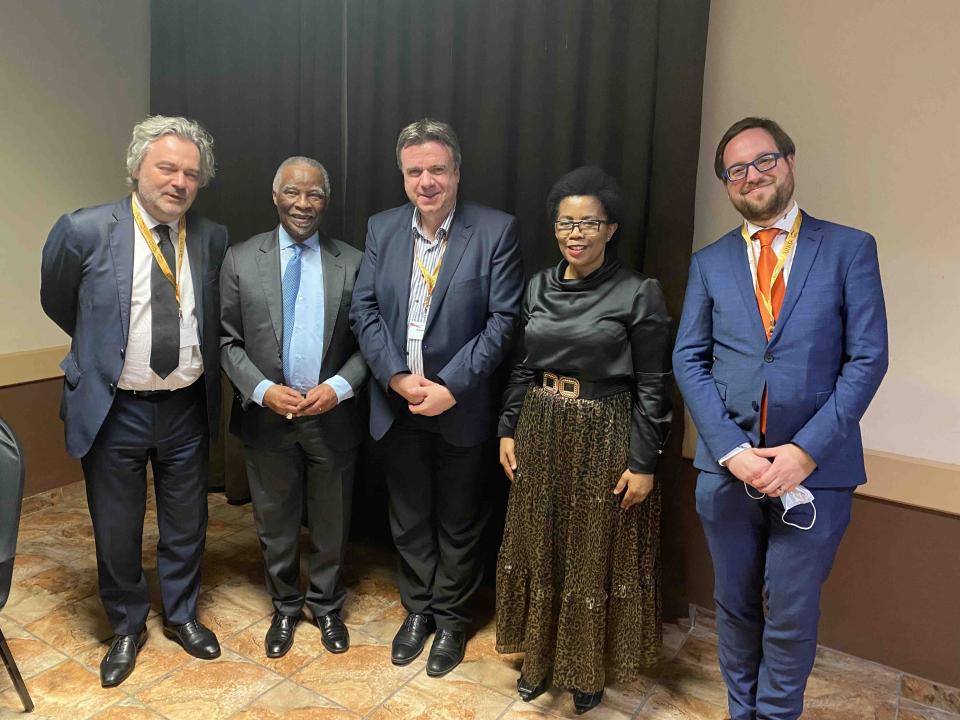 From left to right: Peter Paul Kainrath, President of WFIMC; Dr. Tabo Mbeki, former President of South Africa and Chancellor of UNISA; Florian Riem, Secretary General of WFIMC; Prof. Puleng LenkaBula, Vice- Chancellor; Rob Hilberink, Executive Director, Liszt Utrecht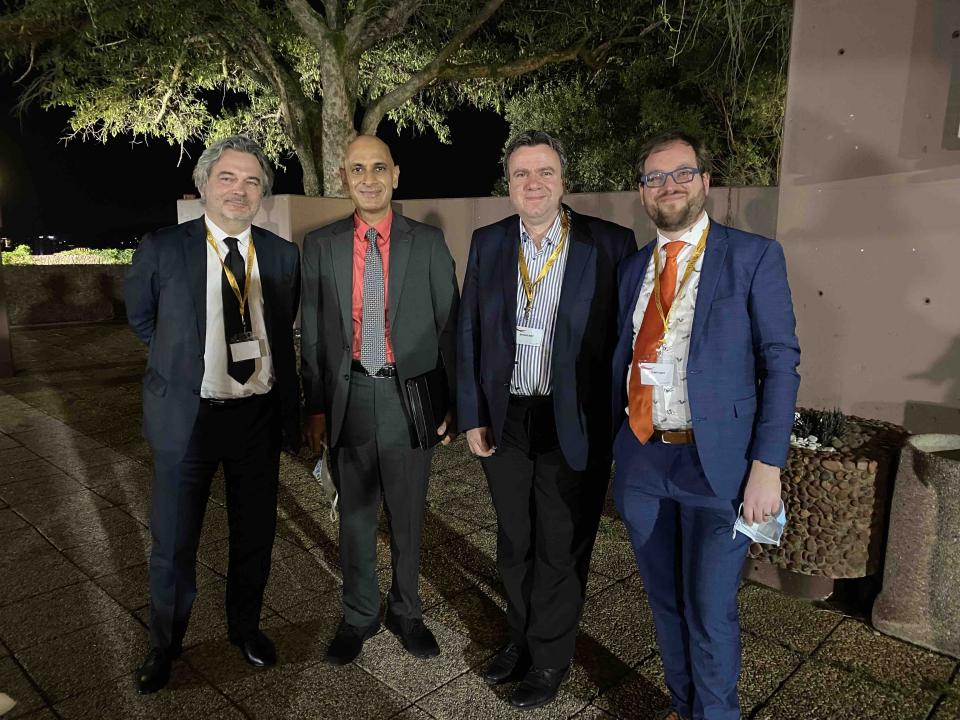 From left to right: Peter Paul Kainrath, President of WFIMC; Karendra Devroop, Director of UNISA Competition; Florian Riem, Secretary General of WFIMC; Rob Hilberink, Executive Director, Liszt Utrecht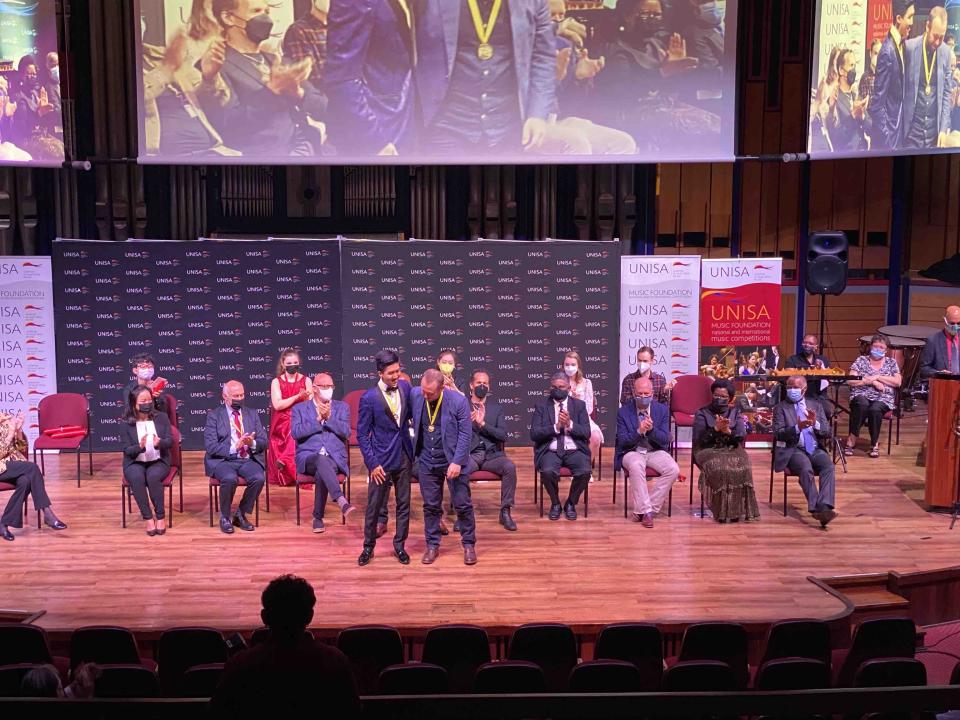 Winners of UNISA Competition Bryan Cheng (24, Canada), 1st Prize classical strings competition and Mark Lewandowski (29, USA), 1st Prize jazz.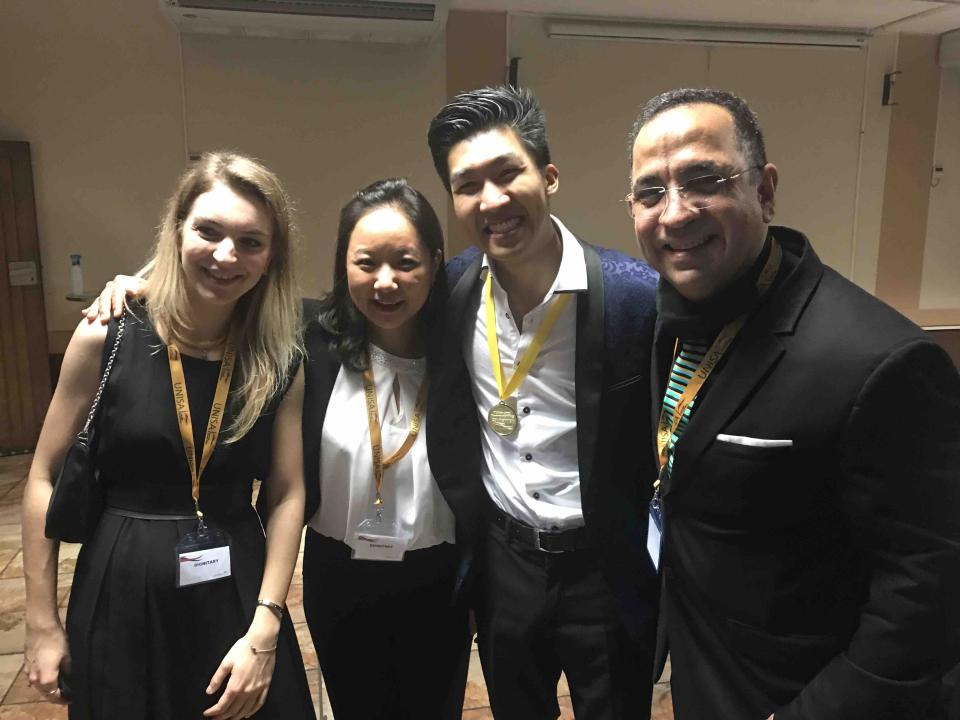 1st Prize classical strings competition winner Bryan Cheng with Jury members Ksenia Milas, Hannah Suhyoung Eichberg and Eddy Marcano.
Game reserve near Pretoria
Game reserve near Pretoria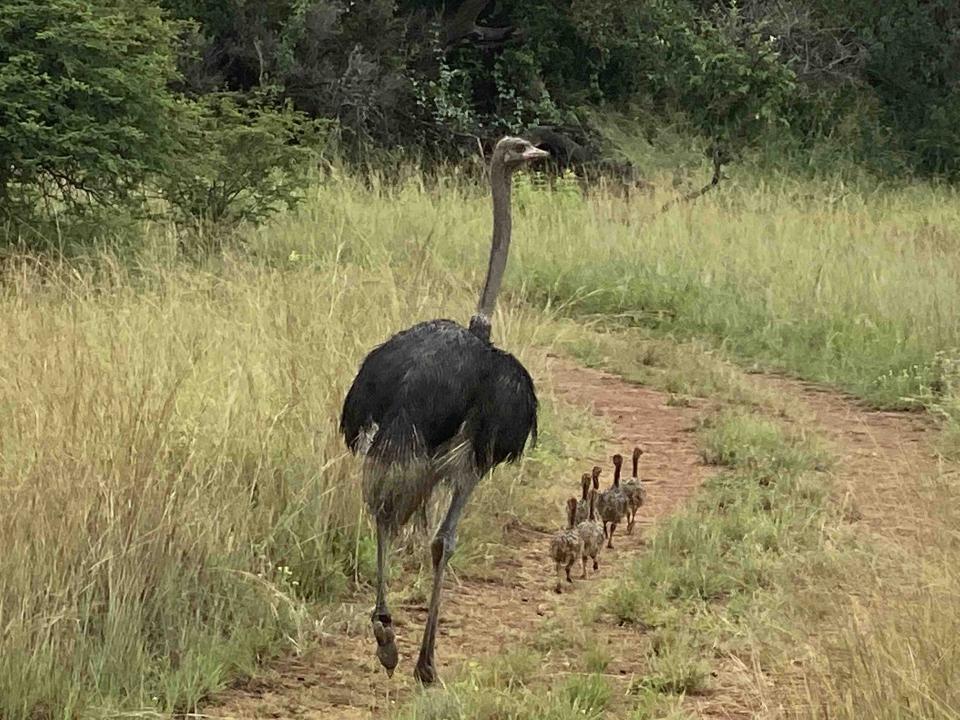 Kwalata game reserve
Chapman's Peak Drive, Cape Town
Back to Music. South Africa particularly has so much to offer! After so many years of internal silence and exiled cries, the vibes and voices demand respect and recognition for their culture, their art, and their beliefs.
In this aspect not only have I discovered this richness - that beyond the so-called "African music", there are so many different influences, approaches, musical models from every ethnical core, engraved in the people's blood since the beginning of time; there are as many intensions, whether they are prayers or love verses, poetical acknowledgement of the nature or political messages. But I have also found artists- especially musicians, eager to spread their music and their talent in their own country and worldwide. They are fighting for the youngest generation to get the proper education, to get access to the world of arts, and to music particularly. For they were denied their very soul, their identity, for so many years, and this is what gives them the determination, I would say even credo, to reach out there.
Once celebrated for its wonderful poets, politically engaged stars, some of them exiled for fighting for their integrity, like Miriam Makeba, Hugh Masekela, or Leon Bosch, South Africa has always been a fertile ground for all kinds of music: ethnic, gospel, jazz, pop, rap. It eventually found its way to western countries in mixing the different identities, Savuka and Johnny Clegg being the most popular representatives in the 80's. On the other hand, Paul Simon explored and experimented with African sounds in his 1986 song "Homeless".
30 years after the abolition of apartheid, a new generation of musicians has taken the world, whether they are classical or jazz musicians, rappers, pop stars….And not long ago, we have all been touched by the healing power of the song "Jerusalema" written by South African singer Nomcebo Zikode, a prayer that made the world dance during the pandemic.
For decades, composers like Gyorgi Ligeti have integrated African models of polyphony and polyrhythm in western classical contemporary music. On its own side, South Africa now exports highly praised classical and jazz young musicians: singers such as Pretty Yende, Cecilia Rangwanasha, Sunnyboy Dladla; cellist Abel Selaocoe; jazz artists like Urban Village and many others are touring the world.
Moreover, hundreds of African classical composers have been given a whole new platform in London since 2019: the African Concert Series "reflects the depth and diversity of Africa art music, the richly diverse genre of music which forms a bridge between Western classical music and traditional African music" (theafricanconcertseries.co.uk).
The University of South Africa is, in its Vice-Chancelor Prof Puleng LenkaBula´s words, "a proud African university with a clear intellectual resolve to shaping and reclaiming Africa's intellectual futures". It aims to "interact with all languages, cultures, and musical traditions and moreover recall its commitment to re-member African musicology".
Moreover, and to quote former South African President Dr. Thabo Mbeki, Chancellor of UNISA and President of the UNISA Competition, "At UNISA, we place tremendous value on arts and strive to do our best to ensure that the arts are firmly embedded in our core values." He emphasizes UNISA's commitment to promoting and developing music in South Africa.
The UNISA Music Competition is not only WFIMC´s only African Competition, but also our only Member to host both jazz and classical music in all its competitions, every two years.
2022 marks 40 years of the competition´s inspirational work on the African continent. It has become a greatly appreciated platform for launching international careers.
This year, it has once again proudly gathered international as well as incredibly talented South African young musicians.
During the Regional meeting that was held together with the competition in Pretoria, WFIMC and UNISA, in an original panel intitled "Music of Africa on a global stage", gave the audience, both live and in streaming worldwide, the opportunity to listen to South African musicians, expressing their feelings and their experience on how life, political background and social distress made it difficult for artists to find work and launch their careers . They emphasized how important it was and still is to have mentors, who would lend a hand to the younger generation, once they arrived at the peak of their career: "when you learn, teach" is the mantra. Indeed.
But as the speakers agreed, there still is a lot to do to give children access to the arts, and to enable them to learn music. There is no basic music education at public schools. In some places, community music programs have been created, but only for a very small number of kids. Like in so many other places, funding is the main issue. Access to Music education depends on your own resources, and so the greatest talents may be missed because they cannot find enough money to learn an instrument. Classical music in particular is considered an elitist genre in the townships and faces many hurdles, among them an inferiority complex that sadly still exists. Moreover, it is a huge challenge to get an instrument or to find a teacher. Nevertheless, hard work has been done over the last years with some special programs: outstanding artists and teachers have been invited from around the world and have taught and performed at newly flourishing festivals. International competitions now organize preliminary rounds in South Africa, which helps a lot with the recognition of the genre and of course financially. Some of the teachers or jury members listen to young students and invite them to study abroad, thus providing opportunities for young musicians to meet other cultures.
Still the lack of government funding is of course of great concern. There are many choirs and choral schools all around the country with hundreds of great voices that will never have the opportunity to reveal their real talent and perform alone. There is only one opera company, in Cape Town, and the chances of working there are close to none for most young artists.
South Africa provides very few performance opportunities, and for artists to work, they have to go abroad in order to succeed.

And indeed, lots of extraordinary South African classical musicians are having a huge success abroad: singers can embody emotions like no others, classical musicians double in jazz, composers have created a whole African brand and are most renown on the classical composition stage. Western contemporary composers find in African music patterns for their own compositions.
One of South Africa's most admired musicians among the young generation, Abel Selaocoe, said "Home is where you can play music, where you can be inspired". He is a true South African musician in his way of bringing both Bach and his own ancestors together, to meet and make his own voice resonate. He started in a community music program in South Africa and went all the way to performing at the BBC proms last year. He now lives in Manchester, UK.
At the same time, a question often raised was "how can we retain our students and musicians here, rather than having them go abroad?" Why can't they start a career in their own country? And why is it so difficult to bring them back home once they have started their career abroad?
UNISA might have the answer to these questions: it offers a great platform and excellent musical studies. Moreover, the representatives are working on preserving and expending the identity of African music in the country and worldwide. Recently, Vice-Chancelor Prof Puleng LenkaBula expressed her wish to include indigenous music studies and to create an African music competition, with the purpose of exposing Africa's "rich and proud musical heritage".
However, in my opinion, there is not only one single style that you can call African music, but rather as many different styles as there are ethnicities. How to celebrate all of them without comparing them in a competition?
One solution that was mentioned at the panel discussion might be a composition competition. A composition competition could break boundaries and make African music evolve. UNISA most certainly can take the challenge.
Will we, in the next years, witness the creation of a new member of the WFIMC such as the Pretoria African music composition competition?
We can say with certainty that thanks to Viktor, Samson, Conroy, Nina, Megan Geoffroy, Hein, Karendra, and thanks to their open-minded discussions with the WFIMC members present at the conference, a step further has been taken reflecting on African musicians' engagement on a global stage. A ray of light in the hopefully vanishing complex of inferiority.
And as far as I myself am concerned, listening to committed people, learning more about music creating connections between African and western sensibilities, building bridges between different musical identities (also dancing to the sound of great musicians), all this has deeply found a true resonance in my half Western – half African understanding.

©WFIMC 2022