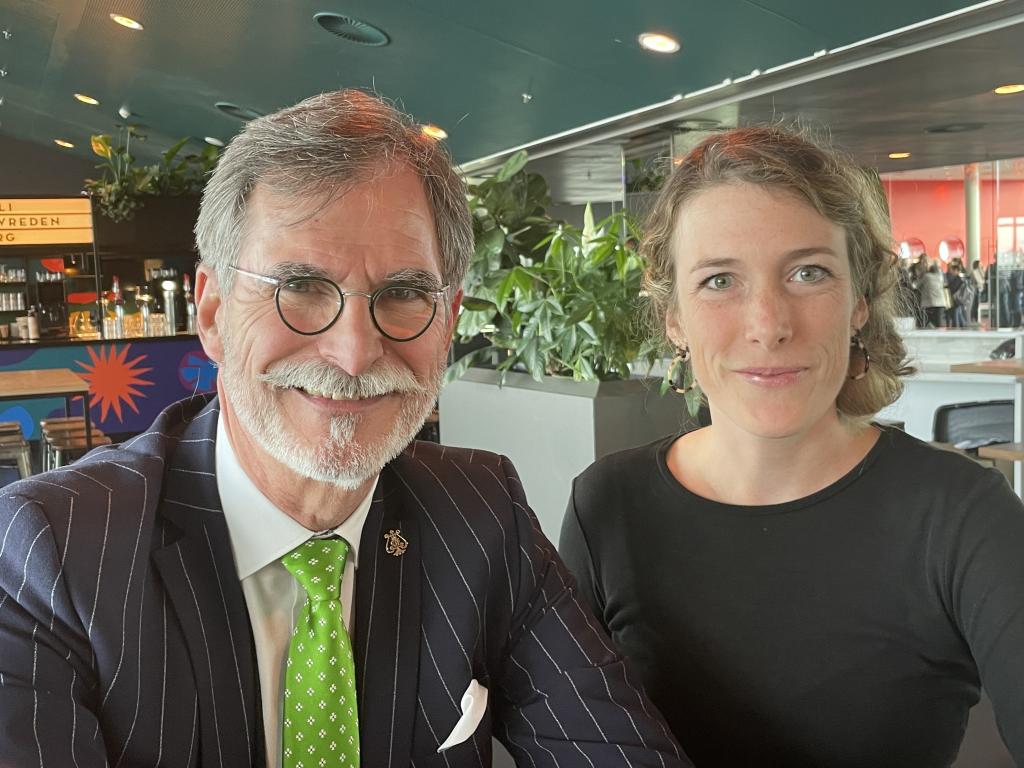 Steinway & Sons appoints new Head of Concerts and Artists in Hamburg
A former manager of Artistic Planning at Elbphilharmonie Hamburg, Ann-Paulin Steigerwald was appointed new Head of Concerts Artists at Steinway & Sons in Hamburg. She will work alongside Gerrit Glaner, who remains at the company to lead the Steinway Prize Winners Network. WFIMC talked to the two at the Alink Conference in Utrecht.
WFIMC: Ms. Steigerwald, how did you get to work for Steinway?
Ann-Paulin Steigerwald: For the last 8 years, I worked in artistic planning of the Hamburg Elbphilharmonie and Leiszhalle. I began in 2014 and was involved in the opening of the new hall in 2017- a great opportunity to meet many major artists and orchestras from all over the world who came to visit. With the position at Steinway, it´s the opposite: I myself will travel and work with artists all over the world.
At Elbphilharmonie, I worked in various areas: especially for the great orchestras, special projects, but also coordination of our live streams, and financial planning, cooperations, and contracts.
Gerrit Glaner and Ann-Paulin Steigerwald (©WFIMC)
WFIMC: You are from Hamburg?
Ann-Paulin Steigerwald: Yes, I went to school in Lüneburg and Weimar, where I studied Cultural Sciences. Both Leiszhalle and Steinway were always important for me, especially since I studied violin and piano at school and early on dreamed of my own Steinway….
WFIMC: What is needed for someone to work at Steinway? Do you have to be a piano maker?
Ann-Paulin Steigerwald: I am very experienced in artistic planning and everything related to artists and concert operations, but whats really important both in my last and current positions is communication: the ability to bring artists together, to understand their needs and worries. And diplomacy: to make things possible, to negotiate with all kinds of different personalities. Steinway is present in so many places: not as an obstacle, but to bring people together. Unlike with other instruments, where every artist, every musician can simply bring their own instrument: our goal is to create the ideal conditions for each artist we work for.
WFIMC: You are following Gerrit Glaner in this job, a person who has a great following and is well known everywhere. Does that make it easier or more difficult for you to begin?
Ann-Paulin Steigerwald: I have heard this question several times already…but I have known him and his work for quite a while as well, and it is now my job to continue in these big footsteps. To continue many of his great efforts, but also to be creative and bring in new ideas. That´s why I chose this job, and thats why they chose me….The exciting time begins now. I have to watch closely and learn about all our activities, and then develop a strategy for the years to come. The Steinway Artists Program has a huge potential, and this what makes this job so interesting for me.
WFIMC: Lets look back a few years! Gerrit, could you tell us how it all began? How did you get to work with Steinway?
Gerrit Glaner: It began with an apprenticeship at a bank where I realized that the notes we talked about where not the ones I was really interested in. I continued with musicology; one of my best student jobs in that time was being the bartender of the Hamburg jazz club "Birdland". Then in 1987 worked for the Schleswig Holstein Music Festival, where I established their annual master classes and began working with young artists…
WFIMC: Did you work with Leonard Bernstein at the time?
Gerrit Glaner: Yes and no- Bernstein conducted the Orchestra Academy and did not work at the master courses. But in 1988, for four days, I was his driver…this was one of the most exciting experiences of my life! After Schleswig Holstein, I was assistant at NDR music television, working for live broadcasts and documentaries, later even directing several documentaries myself. Sitting in OB trucks is fun too! After that, EMI Classics in Cologne and Universal Music in Hamburg where I was the producer of "special projects", such as the CDs of the "Harenberg Kulturführer" (Cultural Guides for opera, symphonic, chamber, piano and choir music, and even drama). Ever heard of them? I had to put together recordings of the "key tunes" of all the pieces explained in those 1200-page guidebooks. Today, you can have this all on Youtube or iTunes, but back then you needed the guides to read, listen, and understand. In 2002 then, I joined Steinway.
WFIMC: Do you have any special memories from your time at Steinway?
Gerrit Glaner: There are many, of course. But one of the most emotional, most touching memories dates back to 2010. You know, we visit competitions and ideally we have local concert technicians who take care of our instruments. Local technicians who know and work with the promoters. For the Rubinstein Competition, however, I wanted to travel with a technician with whom I had worked several times and who was particularly dear to me: Bernd Staudenmaier. But one day he came to me and told me that he had cancer. He said he would not be able to join me for the Rubinstein, and so he stayed home. We were really close, but we had one thing that really set us apart: he loved La Campanella, and I could not stand it. It´s just not my piece, this endless repeating on the high d sharp…It is very often played at competitions and every time it happened, he would turn to me with this triumphant look in his eyes, and I would look to the ceiling… it was our private little game. So, in 2011 he was not there, so I sent him a postcard from Tel Aviv, telling him what a great competition it was: La Campanella had not been played even once!
But then, Daniil Trifonov was rehearsing for the final, playing Bernd´s favourite piece, the e-minor Concerto by Chopin. And at the end of the rehearsal, on stage, he started to practice his encore: La Campanella. So I tried to call him and have him listen to the tune. But when his partner answered the phone, I immediately sensed that something was wrong. She told me that he would not be able to talk- he was dying.
So on the night when Trifonov won- playing Chopin, and La Campanella as encore, my friend passed away. What a coincidence! And even now, when I think of these two events together, I get really emotional…
But the story goes on. After winning the Rubinstein, Trifonov and I had a long walk through the warm summer night back to our hotels. Then he told me he was thinking to go on with competitions and play at the Tchaikovsky in Moscow. I told him to reconsider as I thought it was risky. He was third at the Chopin in the year before and had just won a major international competition – his career had already started! Dropping out at an early stage in Moscow could hurt him more that it would help. Well- little did I know. He liked the timing, felt well and did go to the Tchaikovsky- and won First Prize! That was a real eye-opener for me. A reminder how important it was to respect the thoughts, energy and bravery of the youth.
WFIMC: What a great story! But just to finish up: what will happen next year, will we not get to see you anymore?
Gerrit Glaner: No, I am not leaving just yet. I will still take care of the Steinway Prize Winners Network, which I founded and which already exists for 15 years. It will stay with me for the time being. For everything else, Ann-Paulin Steigerwald will be in charge.
FR/ ©WFIMC 2022