First Address for Brass and Wind Players
Reinhold Friedrich talks about the Aeolus Competition in Dusseldorf, about not winning first prize, and about an argument with Maurice André
WFIMC: In September, you will be on the jury of the Aeolus International Competition for Wind Instruments in Dusseldorf. But let´s begin with a few words about yourself and your experience with competitions. You won Second Prize at the ARD in 1986, but I think this was not your first encounter with a competition…
Reinhold Friedrich: I was 13 when I did "Jugend musiziert" for the first time. Obviously I went to the wrong teacher, because I got kicked out right away in the regional competition without advancing. There was not even one other candidate in the competition, and so I was angry, because I didn't think what I had done there was that bad. But then disaster turned into energy, and the next time around I won First Prize in the National Competition. Things can change that quickly! First you get kicked out of the record- breaking competition and then two years later you're a national award winner. Of course, there are people who, when they even think about competition, the door closes on them, conversation over. With me, that could have happened very early on, because I was really angry. I was actually really mad at the jury, and that at the age of 13, because I felt like I'd been screwed. And then I said, okay, next time, I'll show them.
What year did this happen?
That was in 1972.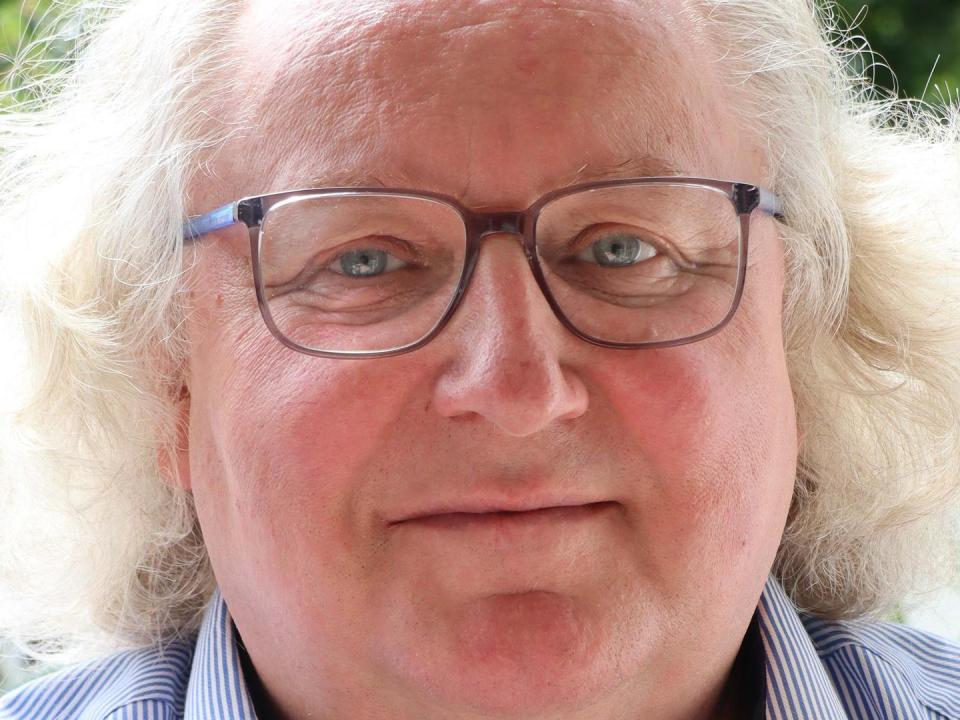 Reinhold Friedrich
14 years before you won in Munich…
Yes. And then two years later, and again two years after that, I won first prize in the competition. (Laughs) I've been working on this topic for 50 years now, so to speak! And I can understand people who find it a burden and who reject it. Because there is always so much "injustice" from everyone´s personal point of view, and also so many things that you can't influence. Even if you're well prepared, things happen. You miss your train; you sprain your ankle on the way. There are so many little things that could get in the way!
But for me it was always something completely different. I always saw it as an inner competition. For me, the competition with myself was the most important thing. Because my repertoire became larger. Because I always learned something new.
Later, of course, I was invited to competition juries many times. And then it happened that I was the chairperson of the jury and was able to decide on the competition program. And finally, at that point, I could begin to compensate for all the accidents that happened to me along the way.
Compensate?
For example, I once argued with Maurice André, because he had decided on a completely unplayable first round program. First Honegger´s Intrada, directly after that the first movement of the Telemann Concerto, and then the first movement of the Francaix Sonatine should be played very fluffy, lightly, in staccato. Very relaxed, very easy- right after you've pressed two hardcore pieces into your face. So I said: "Maurice, let's take the round apart!" It would have been no problem at all. Four candidates play the first piece, and then play the other two pieces. And then come the next four. So, like A, B, A, B. And that could have easily been done, of course. But he answered "no, that's not possible". So I said, sure, Maurice, but have you EVER played a program like that yourself? He replied: "No, but anyway you should to be able to do that".
Those are the things that really got stuck in my mind. I always imagine when I am at a competition like this, okay, put yourself on the other side. Put yourself on the side of those who are playing. Try to feel what's going on. Because I think it's really important not to loose touch with reality. You should empathically take the side of a student and see what's feasible, what makes sense, but also what's totally stupid and out of the question.
Well, I couldn't convince Maurice, but I now do just that in my final exams at the university. Same thing at the Aeolus Competition: beginning in the second round, we separate the sessions, so that the repertoire doesn´t have to be reeled off one after the other. A handful of people come and play their first piece, take a break and then play their second piece.
For this matter, the trumpet is completely different from other instruments. Take the piano. If you are a pianist and you are interrupted in your performance, you would say: "for god´s sake, I definitely don´t want that, I want to play through, of course!". Same thing if you are a flutist: you can play the flute 24/365, your whole life. With the trumpet, it is simply not possible, and therefore it makes sense to introduce a different set of rules for the trumpet. I have been doing that rather consistently, and there have been quite a few imitators. Pretty much everywhere in the world people are beginning to do the same: simply because it makes sense.
How about the stress factor? Is it not twice as hard to come on stage twice?
My experience is: once people have been on stage and they come back, they are actually fairly relaxed. This first scary moment, when they come on stage, see the jury and realize: "this is the moment of truth"- it has already passed. Second time round, it´s not that bad and people are more relaxed. But more importantly, they are also rested and can play their second piece with full energy, not with only half their lungs and whistling from the last hole.
Noone wants to hear a trumpet player who reaches the finish line at the end of the piece with their last ounce of strength, where you think, oh my God, that was terribly exhausting. Nobody wants to hear that.
In any case, there is not a single recital, no solo performance or anything else, where you have to play, let's say, four or five pieces in a row. In real life you never have to do that- except in a silly final exam at university, where a mediocre professor (who never played well himself) makes sure to keep his tradition.
So you are using this system also at the Aeolus Competition?
Exactly. We do it at Aeolus, and similarly at other competitions.
Back to the ARD: winning in Munich was a major point in your career that really opened doors to becoming a soloist. Do you have memories from 1986?
Of course! Many. I vividly remember Ludwig Güttler, who came to me after the second round and told me with his nasal saxon accent: "Well, with the Hindemith Sonata, you should work on your interpretation!" I found it rude, because I had prepared that piece like crazy with Prof. Lutz Köhler, the conducting professor at UdK in Berlin. Köhler has trained woodwind quintets and other ensembles for the last 30 or 40 years. He has conducted all the youth orchestras. For 20 years, he was director of the European Union Youth Orchestra after Abbado. And I had worked with him like a maniac. So I told Mr. Güttler: "I think you´re wrong. I have prepared this Sonata well enough!". And with this comment, my point average in the finals went down a little.
And there was another thing: Philip Jones, of the Philip Jones Brass Ensemble, was in the Jury and a close friend of my teacher. He came to me after the final round and told me: "Reinhard, look, I brought a pair of scissors with me. I will cut your hair right now. With this long hair you will never make a career!". I replied: well, maybe you can cut very quickly, but I can run faster! Very well, then I won´t make a career!".
Reinhold Friedrich at the ARD Competition in 1986 ©Bayerischer Rundfunk
Well, I guess Philip Jones was wrong. You career really took off after winning in Munich!
Yes. And I was never upset that I did not receive the first prize. At that time, they hardly ever gave a first prize. Jessye Norman, Heinz Holliger, Maurice André. They got first prize, everyone else got second. So I was not upset at all- to the contrary: I was happy. But George Fosberg, trumpet of the Chicago Symphony who won third prize, said angrily: "How can I go home now that I don´t have the first prize?" There were lots of stories like that.
George Fosberg was already in the Chicago Symphony! What about you, did you have a job at the time?
Sure. The day after the Prizewinner´s concert, I had a CD recording with 9th Mahler and Inbal. Between the competition rounds in Munich I went to Frankfurt to rehearse Mahler.
Oh my god!
A week later we began with Mahler 8. That was in 1986- I stayed in Frankfurt (at the Hessische Rundfunk) until 1999.
Is it common that candidates in the brass competitions are older and are working in orchestras already? It seems quite different from a string competition.
Yes, that's because in the past it was simply the case that you only got to the large repertoire later. There are exceptions, of course: for example, I now have a young Russian who is a kind of a prodigy, like Sergei Nakariakov. He can play the entire repertoire at 17. But usually, you are ready to start at 18, 19, and then you work your way through the repertoire piece by piece. And it doesn't go very fast. For one competition, you learn 8 or 9 pieces out of the 40 or so works that are interesting in our repertoire.
Is there a special recipe you have when you prepare your students for a competition?
There are two things that are incredibly important. One is the preparation: you really need a very clear concept of how you work. In other words, you have to make a note of what you've done every day. With this, you have an exact overview of where you stand and what still needs to be worked on. Only with this will you know whether you have worked on all the pieces sufficiently. And the second this is: perform! In order to do a competition, you have to do lots of performing. Doing the entire competition repertoire beforehand, and several times, you gain a lot of confidence.
Tell us a bit more about the Aeolus Competition.
It has gained a great importance in the music scene, it´s quite a phenomenon. It is really THE competition for wind players. We don´t really have many others: there is Munich, there is Marktneukirchen. Some years ago, there was Geneva. But today, Aeolus is really a first address for Brass and Wind players. I would not know which competition to put on the same level.

The International Aeolus Competition for Wind Instruments has firmly established itself as a worldwide recognized stage for Flute, Oboe, Clarinet, Bassoon, Saxophone, Trumpet, Horn, Trombone and Tuba. It takes place once a year in Düsseldorf since 2006.
Aeolus Competition is open to young musicians of all nationalities younger than 28 years. Each year three of the Instrument groups are opened for competition: 2023, the competition calls for Trumpet, Trombone and Tuba and will take place from 5-10 September. Registration deadline for participants is 30 April 2023.
Website of the Aeolus Competition

©WFIMC 2023/FR