Czech Trios win at the Joseph Joachim Competition in Weimar
At the Franz Liszt University of Music in Weimar, Germany, three piano trios took the top awards of the International Joseph Joachim Chamber Music Competition 2022. A total of 17 piano trios had competed in this year´s competition, which ended on April 9. While no first prize was awarded, two ensembles from the Czech Republic took joint second prizes: Trio Bohémo and Trio Incendio. Third Prize was awarded to the French Trio Pantoum.
Prizes:
2nd Prize: Trio Bohémo (Czech Republic, ex-aequo)
2nd Prize: Trio Incendio (Czech Republic, ex-aequo)
3rd Prize: Trio Pantoum (France)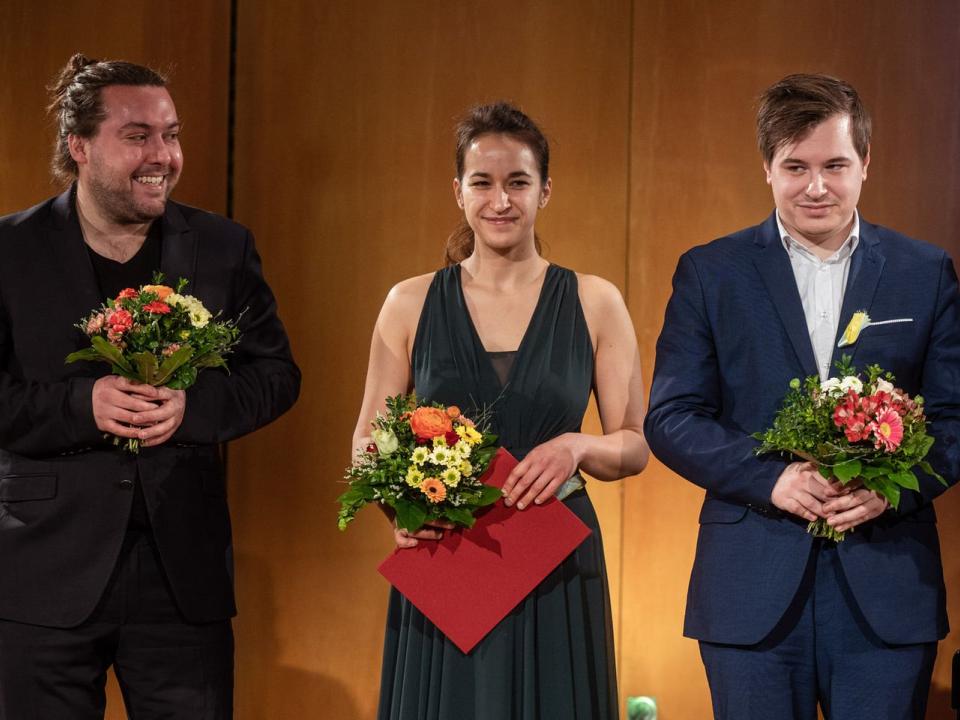 Trio Bohemo (Czech Republic), Second Prize Ex-aequo
Trio Incendio (Czech Republic), Second Prize Ex-aequo
The Trio Bohémo with Jan Vojtek (piano), Matouš Pěruška (violin) and Kristina Vocetková (cello) has been, according to its own statement, "finally" living out of suitcases again since August 2021. Founded in Budapest in 2019, the award-winning Czech trio has been touring across Europe between concert appearances, competitions, intensive rehearsals in Prague and master classes at the European Chamber Music Academy.

Trio Incendio was formed in Prague in 2016 and is currently studying at the decentralized European Chamber Music Academy, a major talent incubator for young European chamber musicians. The trio with Karolína Františová (piano), Filip Zaykov (violin) and Vilém Petrashas (cello) already enjoyed a number of successes at international music competitions and has performed in some of the most important European concert halls.

As an outward sign of their national identity, Trio Pantoum with Virgile Roche (piano), Hugo Meder (violin) and Bogeun Park (violoncello) performed in blue suits, white shirts and red socks in all rounds of judging. They put a whole year of preparation, especially intensive in the last two months, into their current competition success in Weimar. All three musicians live in Paris and are studying for a master's degree at the Conservatoire Supérieur de Paris.
Every three years, the International JOSEPH JOACHIM Chamber Music Competition has been attracting the most talented young ensembles to the University of Music FRANZ LISZT Weimar for around 25 years. The challenge is to perform a stylistically diverse and extensive repertoire spanning several centuries in front of the trained ears of a top-class jury. The requirements include works from the early and late classical period as well as the romantic period. Additionally, attention will be paid to modern works composed after 1900 as well as after 1970.
The choice of violinist, conductor and composer Joseph Joachim (1831-1907) as the competition's namesake is obvious, as he belonged to Franz Liszt's inner circle during his time as concertmaster of the Weimar court orchestra. As one of the most important chamber musicians of the late 19th century, Joachim played in the Liszt-Joachim-Coßmann piano trio, which gained a legendary reputation during its short existence.
Jury:
Anne-Kathrin Lindig (Chair), Miguel da Silva, Valentin Erben, Vera Martínez Mehner, Angelika Merkle, Hartmut Rohde, Bernhard Schmidt, Florian Wiek