Art Songs and Arias in Montreal
June 9 in Montreal's Maison Symphonique, the audience and the international Jury of Voice 2022 attended the Aria Grand Finale (Opera) of the Concours musical international de Montréal. 5 finalists from the 32 selected for the first round have delivered heartfelt and dazzling performances, accompanied by the Orchestre Symphonique de Montreal, under the baton of Jacques Lacombe. The Finalists, one soprano, two mezzo-sopranos, one counter-tenor and one baritone, sang three arias each, from different operas and different eras.
Simone McIntosh, a mezzo-soprano from Canada, showed the power of her voice from the very beginning with the aria from Ariadne auf Naxos (Strauss). Her charisma served a very sensitive Sesto (Haendel) and she was able to show the nimbleness of her voice in the famous Non più mesta from Rossini's La Cenerentola. The Jury awarded her 1st Prize.
Sarah Dufresne (2nd Prize) and Valerie Eikhoff (3rd Prize) complete the podium.
As a cultural metropolis, Montreal has always aimed to be innovative, open to the world, diversified, inclusive. Where in other voice competitions, Lieder (or melodies, or art songs) are a complement to opera arias and may be performed in earlier rounds, Montreal offers a unique opportunity for singers to compete in two different divisions. The Art Song division was created at the CMIM by James Norcop in 2018, to "diversify and energize the influence and radiance of the CMIM and bring new evolutions to the discipline of Voice".
The Final of the Art Song Division took place some days before at the Bourgie Hall. The three Finalists were accompanied by a pianist (no orchestra for this discipline). This year's great Art Song voice is Meredith Wohlgemuth, a soprano from the United States. The beauty of the musical phrases, the intelligence of her art, her expressive musicality, even in the lived silence in between notes, all this has brought to award her with the 1st Prize of this particular discipline. Moreover, she is the recipient of the 50'000.- USD Azrieli award for emerging talents. This exceptional Prize consists in the creation of a website, concert tours, recordings...
The CMIM offered also a Special Prize for the collaborative pianists. This year's recipient of the award is Jinhee Park (South Korea), Ms Wohlgemuth's pianist.
The three finalist of the Art Song division: Bryan Murray, Meredith Wohlgemuth, Harriet Burns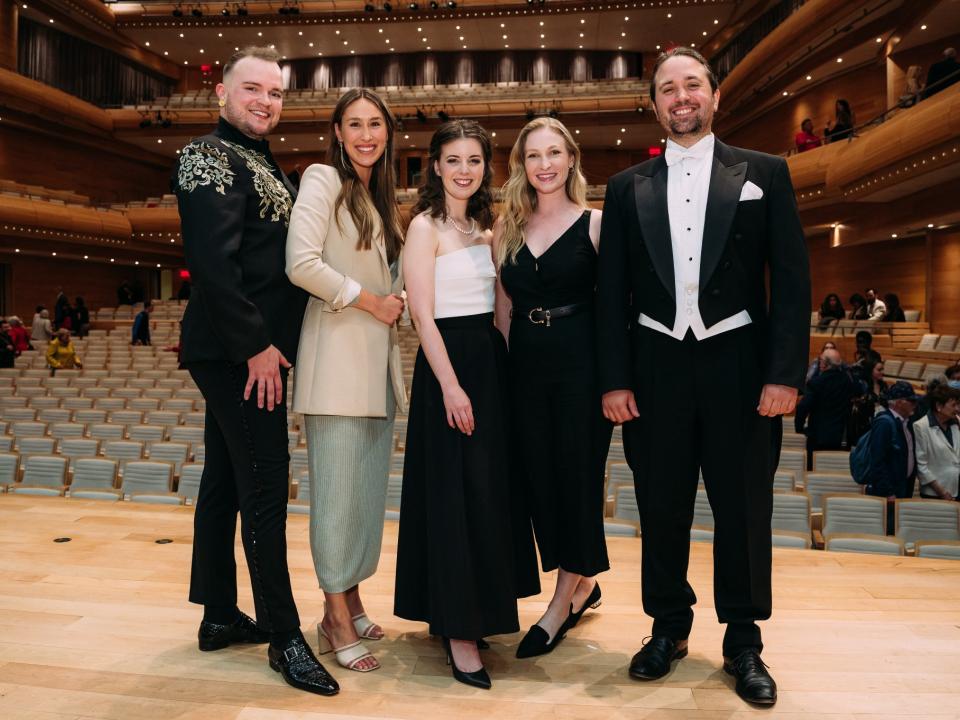 Finalists of the Aria division: Nils Wanderer, Valerie Eickhoff, Simone McIntosh, Sarah Dufresne, Hugo Laporte
2022 Voice Edition Prizes
Aria Division:
1st Prize: Simone McIntosch, mezzo-soprano, Canada
2nd Prize: Sarah Dufresne, soprano, Canada
3rd Prize: Valerie Eikhoff, soprano, Germany
Art Song Division:
1st Prize: Meredith Wohlgemuth, soprano, United States
2nd Prize: Harriet Burns, soprano, United Kingdom
3rd Prize: Bryan Murray, baritone, United States
Jury: Zarin Mehta (chair), sir Thomas Allen , Robert Holl, Hartmut Höll , Renaud Loranger, Adrianne Pieczonka, Richard Rodzinski, Christine Schäfer.
Artists: Orchestre Symphonique de Montreal, conductor Jacques Lacombe
Jinhee Park, pianist (Art Song division)