Vienna: A sensation at the Kreisler Competition
Seventeen Year old Brazilian wins First Prize
The 2022 International Fritz Kreisler Violin Competition ended with a sensation: To thunderous applause, 17-year-old Guido Sant'Anna from Brazil accepted the Fritz Kreisler Prize 2022 in the Golden Hall of the Vienna Musikverein after an impressive performance of Brahms´ Violin Concerto. For the first time in the history of the competition, Michael Shaham from Israel and Rino Yoshimoto from Japan placed ex-aequo in second place, while no Third Prize was given.
Guido Sant'Anna began to study violin at age 5 with Marcia Uhlemann. At 7 years old, Guido's talent was discovered by conductor Julio Medaglia who took him to his first solo concert, accompanied by a chamber orchestra. In 2013, he started taking classes with teacher Elisa Fukuda and stood out on the national scene. Guido has performed as a soloist with orchestras in several cities in Brazil and abroad with recitals and duets. In April 2018, he achieved a historic achievement: he was the first Brazilian/South American to be selected to participate in the Menuhin Competition in Geneva, Switzerland and he also surprised everyone by being a finalist. He won the 6th prize, the Audience Award and the Chamber Music Award. After 2018, Guido joined The Perlman Music Program, attending their summer courses. Today Guido still studies with Elisa Fukuda, and plays an Iorio violin from 1833, kindly provided by the Caris Foundation.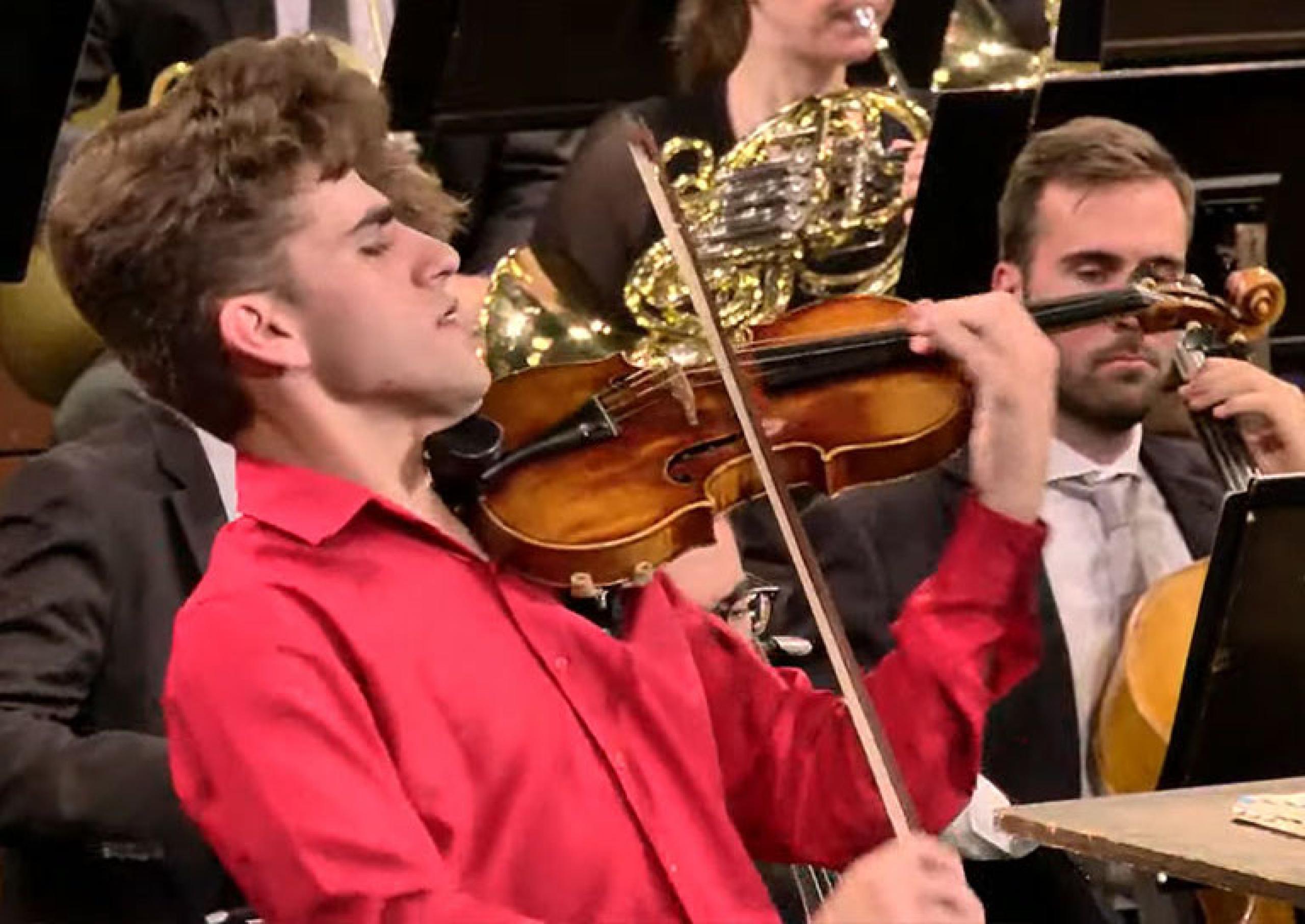 The three Kreisler winners 2022
Rino Yoshimoto
Michael Shaham
The Kreisler Competition has an unusual media coverage not only in Austria but also overseas. While the competition was presented by Kuke Music Platform in China, it was also featured on CNN Brazil.
The Fritz Kreisler Society has been organizing its violin competition since 1979 at the Musikverein or Konzerthaus in Vienna, Austria. The Competition takes place every four years.
In organizing Austria's most important international violin competition, the
The Fritz Kreisler Society was recently restructured and a goal was set to make the Competition even more attractive - in occasion of the 10thedition - and, in cooperation with existing as well as new funders and sponsors, to once again host a first class musical cultural event. The 2022 competition received support from many prestigious institutions as the University of Music and Performing Arts Vienna, the cultural department of the Austrian Foreign Ministry, the Exil.Arte association and the Austrian broadcasting company ORF.
Prizes:
First Prize: Guido Felipe Sant'Anna e Silva (17), Brazil
Second Prize: Rino Yoshimoto(19), Japan
Third Prize: Michael Shaham (19), Israel
Jury:
Jean-Jacques Kantorow (Chair), Fanny Clamagirand, Igor Gruppman, Mario Hossen, Sergey Khachatryan, Ernst Kovacic, Sergei Krylov, Benjamin Schmid, Dmitry Sitkovetsky, Ingol Turban
Artists:
Final: Chizu Miyamoto (Piano), Aki Maeda (Piano)
Gala Final: Vienna Radio Symphony Orchestra / Alexander Joel, Conductor

FR/©WFIMC 2022