Stenhammar Competition announces its 2022 winners
After its 2021 edition had to be postponed due to the serious pandemic situation in Sweden, the Wilhelm Stenhammar International Music Competition was finally held this June.
Vera Talerko, winner of the First Prize, studied at the Lithuanian Academy of Music and Theatre under Asta Kriksciunaite. She has participated in several international forums and festivals, such as European Liedforum (Germany, 2012), European Liedforum (Latvia,Lithuania, 2013), Le Strade d'Europa (Italy, 2015, 2016), and the Rossini Festival in Wildbad (Germany, 2017). Talerko is a previous laureate of the Stenhammar Competition (Mozart Prize 2018) and has received a number of awards in Sweden, Germany and Russia. She regularly performs with a number of orchestras and opera houses, including the Norwegian National Opera, the Lithuanian National Symphony Orchestra, and the Prague National Opera.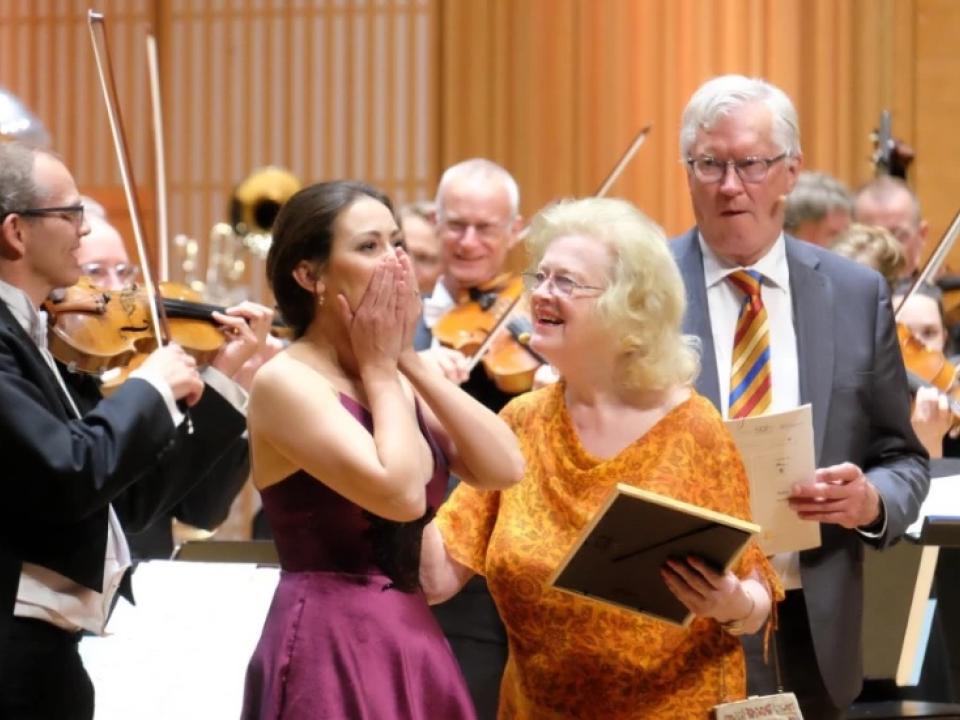 Sonja Stenhammar congratulates First Prize winner Vera Talerko ©Ann-Charlotte Sandelin/WSIMC
Wilhelm Stenhammar International Music Competition, or WSIMC, was inaugurated in June 2006 with King Carl XVI Gustaf and Queen Silvia as guests of honor. Since then the competition has been held every two years. The competition has an obligatory part where the contestants must perform a work by Wilhelm Stenhammar. Since 2012 there is given a special prize for the best Stenhammar interpretation.
2022 Winners:
First Prize: Vera Talerko (Latvia)
Second Prize: Rebecka Wallroth (Sweden)
Third Prize: Yohan John Ji (Korea)
Audience Prize: Vera Talerko (Latvia)
Jury:
Nader Abbassi, Georges Delnon, Göran Gademan, Franziska Maria Kaiser, Erki Pehk, Paolo Pinamonti, Karin Veres
Artists:
Norrköping Symphony Orchestra/ Nader Abassi, Conductor