Geneva Encounters: Cellist Bryan Cheng
2nd Prize Winner of the 2021 Concours de Genève, Bryan Cheng recently returned for a recital
WFIMC: Good Morning, Bryan! NIce to see you in Geneva. How are things? You are still living in Berlin?
Bryan Cheng: I´ve just moved apartments, actually, but I´ve lived there for 8 years, doing my Bachelor´s and my Master´s, and now I´m studying at Kronberg Academy.
But you´re not moving to Kronberg?
(laughs)- no, it´s too hard to leave Berlin! But it´s a really inspiring and lively place. I just did two sessions with Gidon Kremer and Andras Schiff...
Sounds great! How is the new hall there?
Oh I love it! I was sceptical because everyone was saying such positive things, I thought this cannot be true- it´s impossible to live up to such expectations. But I played there, and it´s quite incredible!
Let´s talk about competitions a bit- you came back to Geneva yesterday (you won second Prize at the Concours de Genève in 2021). We´re always interested to hear what these competitions mean to you and what place they take in your career and your life. And not only because of the nice performances with the orchestra, the big prize, the big money, but also how they continue to play a role in your life...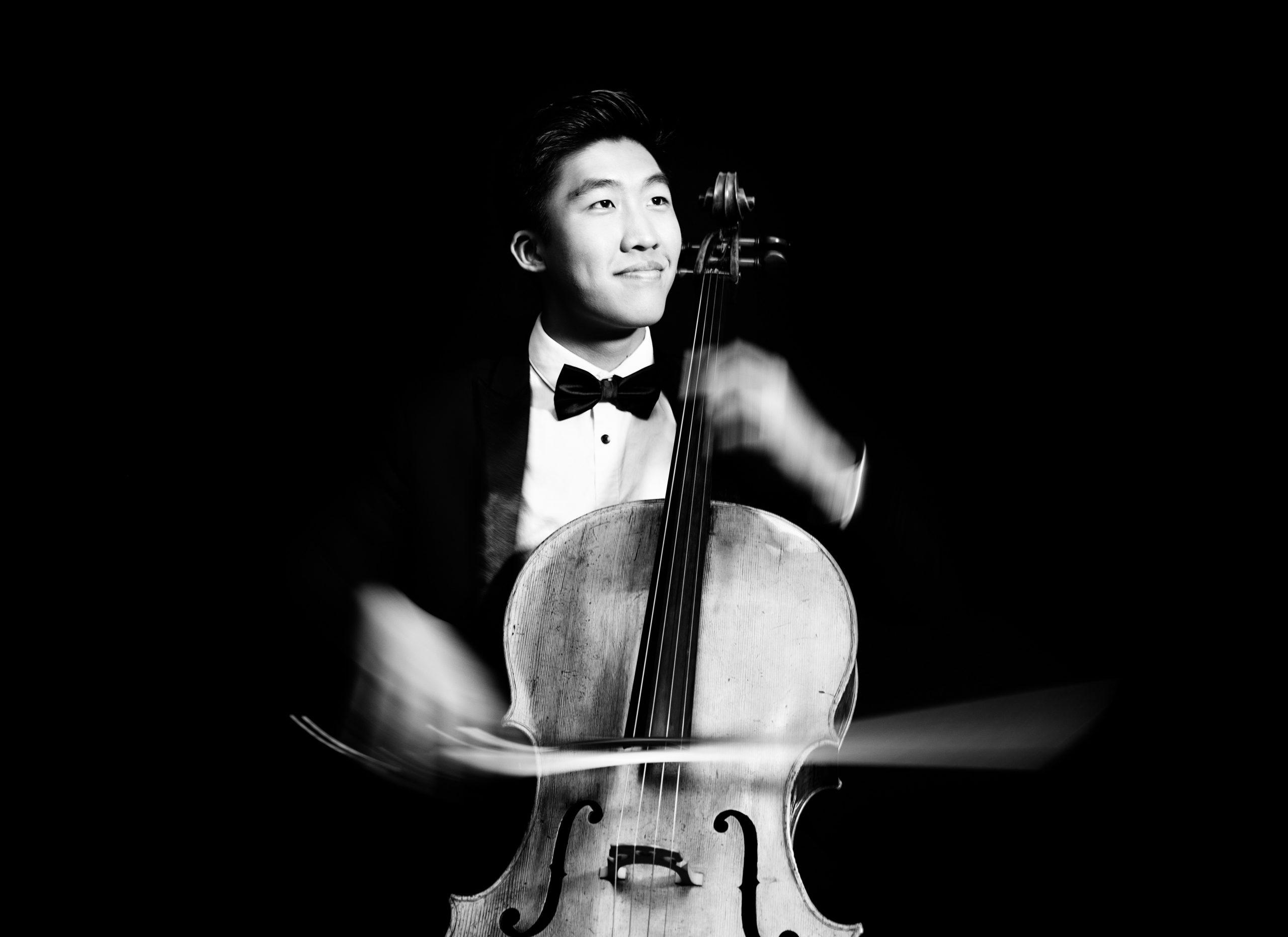 Bryan Cheng with Orchestre de la Suisse Romande, at the 2021 Geneva Competition ©WFIMC
I´ve become a kind of WFIMC regular… for me competitions have always been a stepping stone, which I have used to improve my playing in a short period of time, whether musically or technically, and that has always been my primary goal. As a kid, I used to go and watch all these amazing, high-level competitions in person. I went i.e. to see the last Rostropovich competition in Paris in 2009, or the Geneva Competition in 2008. I was still a young cello student  and so amazed by the things I saw, it really inspired me to aim for the highest level, and eventually when I was old enough to participate myself, I had this image, I knew what to expect and what level was needed. When I began doing International Competitions- it was not really that long ago- I had no expectations whatsoever. But I had some luck early on, good preparation, and so competitions were always positive experiences for me. 
And my teacher has such a great regiment of preparing for competitions that I would get into this sort of routine, this intense focus, where I would forget about other things in my life for a month or two and just intensely prepare for competitions.
You are talking about Jens Peter Mainz, right?
Exactly, yes. 
Where is he different from others?
First of all, he is really specific in choosing repertoire with his students, things that he knows that will suit each musician very well. A mix of interesting works and well known works, things that show all sides of the performer. Second of all, I think he's just one of the most dedicated teachers that I've ever encountered, really. Sometimes he puts the students above his own family. He'll give time to you at any time of the day. Whether or not he's traveling, he just came back from a tour or something, he'll just come directly to the school and teach them. That's something that is really irreplaceable and special. And then the students, of course, the level of the studio is incredible. 
When I first got there, Andrei Ionita was there for example, and all of these other fantastic, inspiring cellists. When I left just now, the new generation was coming. A whole full circle of amazing players to tell us of this generation that he's raised. Being in that environment is something quite remarkable, and when preparing for competitions, we would often give internal runthroughs for each other. I really, really appreciated this and found it so helpful because it´s really nerve racking and tough to play in front of your own colleagues. They know the music inside out, and they've studied it for many years themselves. Doing that, I think, really helps you prepare for competitions.
Does that give you a certain mental preparation as well?
Yes! especially for competitions like the Queen Elizabeth when I knew there was going to be a lot of international exposure and just so many people watching. Part of the preparation for me was definitely mental and visualization, especially the last one that I did in Brussels when we were locked in isolation during the last round. 
This is indeed quite special!
I would be really curious to reconnect with some of these 12 cellists. We spent 7 days in complete isolation in the QE Music Chapel, which was an ultra out-of-reality experience. The sense of time we had, or maybe didn´t have, and the intense bonding I totally did not expect in that kind of atmosphere. We really relied on each other in that Chapel environment. And I have really fond memories. Of playing pool together until the early morning, or of a very big dance party we had. These are things you won't really associate with a competition. But it was a way to get stress relief…and in the end we actually felt quite comfortable with each other!
Its always interesting to learn about how people prepare… everyone has a different recipe...
I gain so much from competitions, but they're also extremely mentally taxing and stressful. I feel like I put them into a different box in my head, then open it up when I play. Mentally, one of the biggest challenges for me is just to try to forget about the competition aspect, to forget about the fact that there is a jury who's listening to you and grading you, let's say. 
One of the things that I try to do during the sleepless nights before going on stage is… I just I would lie in bed and go through the entire program mentally, pretending that I would play in the hall. I would go through the full piece or even the full recital. And if I was able to do that in my head without any wandering thoughts or anything else, then I would feel really very stable and comfortable on stage. 
Moreover, I would even visualize my backstage routine and imagine walking from the dressing room to the stage. I would try to imagine every single aspect, so that when I got there, there would be really no surprises. I think in those high intensity competition situations, the thing that you want to have is a sense of consistency, or stability, because that is the one thing that you can control.
You won the audience price in Geneva too, which for many, in a way, means even more than the first price. How do you relate to your audience? What were you feeling in Geneva? It was a very tense final, I have to say.
You mentioned this sense of being part of a family before, and I very much feel that way. Thinking about the three competitions I've done in the past year and a half in Geneva, Pretoria and Brussels, I feel very much at home in all of these places because I stayed with a host family. 
As for the audience- Geneva was really one of the first experiences for me where there was this overwhelming sense of support from the audience. Same for the orchestra musicians. I had never experienced that before. So when I come back to Geneva, I already feel like there's a sense of community here, which is so heartwarming. You really couldn't ask for a better experience in a competition if the audience is so engaged. In Geneva, they know music and you can feel that. And they are not afraid to express their feeling! 
You have been playing together with your sister for quite a while and it's going really well.
Well, we've been making music together for about 20 years now- since we were kids. It really feels like part of not only my musical identity, but also my personal identity to have such a strong bond with her. We've been lucky that our touring activity keeps increasing! Right now, we're on a little European tour, partly organized by Concours de Genève and the Queen Elizabeth Competition. During the year, we see each other five or six times for longer tours, and we plan to keep up that schedule. In terms of future plans, we also have an album coming out this fall!
That sounds very harmonious. You never have an argument with your sister?
About music, actually no. More like, about where we should go to eat!
You live in Berlin, but your family is in Canada, and your cello is Canadian, so to speak… do you go back a lot?
Yes! I have a Stradivari on loan from Canimex Foundation in Québec, so I get to go back quite a bit. Maybe four times a year. Also, our parents still live in Ottawa, where I was born, so I go back there whenever I can. Instrument and family- this is the dual relationship I have with Canada!
Which lifestyle do you prefer- here or there?
Well, I've become a big city kind of guy over the past years. Ottawa, where I'm from, is only technically a city. It's our capital, but we think of it more as a big village because there is not much going on. In any case, I am on the road so much seeing all these huge metropolitan cities that I more and more appreciate a small town atmosphere. At some point, it just gets incredibly tiring to be stuck in traffic on the way to the airport for a couple of hours….
Especially in Berlin.
Especially in Berlin, yes! Just experienced that the other day, running to make it to our flight because the traffic was so terrible. There are definitely some advantages to the smaller cities that I really appreciate. But in terms of convenience and as for the music world in Berlin, it's pretty much incomparable. There are high-level artists visiting pretty much every night. The influx of musicians coming in all the time is really something you will not find anywhere else. So, for now, I am very happy to be in Berlin and have some occasional trips back to Canada. I think it's a good balance.
©WFIMC 2023/FR