Daniel Barenboim at 80
Music and Politics
On 15 November 2022, Daniel Barenboim will celebrate his 80th birthday. Conductor, pianist, writer and cultural diplomat, he recently announced that he is stepping back from performing due to health reasons. Subsequently, most if not all of his current engagements from Berlin to Bayreuth to Chicago were taken over by other artists.
On occasion of receiving the Grammophone Award, he wrote on social media: "I am taking a step back from some of my performing activities, especially conducting engagements, for the coming months. My health has deteriorated over the last months, and I have been diagnosed with a serious neurological condition. I must now focus on my physical wellbeing as much as possible.
Music has always been and continues to be an essential and lasting part of my life. I have lived all my life in and through music and I will continue to do so as long as my health allows me to. Looking back and ahead, I am not only content but deeply fulfilled."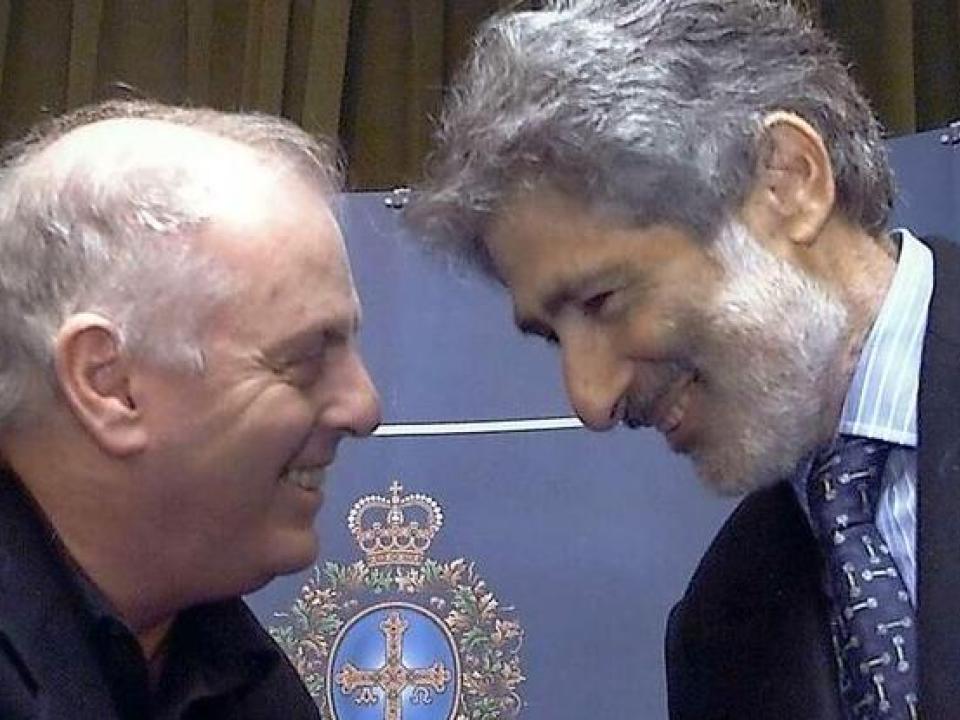 Daniel Barenboim and Edward Said in 2015
Among many other well-wishing and congratulatory messages, Sir Simon Rattle wrote about him as "the personification of lifetime achievement ... I can't think of any classical musician who has not been influenced, inspired or learned from Daniel over all these years, both as musician and philosopher with the extraordinary work he's done with the Divan Orchestra. Of course, one of the greatest musicians of our time, both as pianist and conductor."
Barenboim was born in Buenos Aires in 1942. He gave his first piano recital there at seven, was making records by 11, and debuted with age 13 at the Royal Festival Hall. Both parents were piano teachers and took him to see the great musicians touring Buenos Aires, like violinist Adolf Busch or virtuoso pianist Arthur Rubinstein. 
A child protégé, performing (like going to school or playing soccer) soon became a regular part of young Barenboim´s life. Playing chamber music at a businessman´s house, he writes in his memoir A Life in Music: "I loved to go perform mostly because his wife made the best apple strudel." At the same place, aged 7, he met an eight-year-old Martha Argerich. "We used to play under the piano", Barenboim recalls.
---
 "The 11 year-old Barenboim is a phenomenon." 
Wilhelm Furtwängler
---
---
At 24, Barenboim married Jacqueline Du Pré, and the two became a celebrity couple, before multiple sclerosis forced her to give up playing.
While continuing to pursue an astonishing career as a concert pianist, Barenboim held the positions of music director at Orchestre de Paris (1975–1989), the Chicago Symphony Orchestra (1991–2006), and La Scala in Milan (2011-2016). Since 1992, he is Generalmusikdirektor of Staatskapelle Berlin and Staatsoper unter den Linden.
Early on, Barenboim´s life took him to Israel, when his parents settled there in 1952. Travelling and touring the world already at a very young age, he holds an Israeli passport in addition to his Argentinian, Spanish, and Palestinian nationalities.
---
"The greatness of a musician is measured by the degree of fanaticism he brings to his playing. If, as a violinist, you fail to produce just the right accent on a note, it should cause you almost physical pain".
Daniel Barenboim
---
Barenboim´s involvement and consequently humanistic engagement in the Israeli-Palestinian conflict began 1994 with a random meeting with the American–Palestinian intellectual Edward W. Said in a London hotel lobby. A remarkable couple, Barenboim and Said initiated many projects, but first and foremost they created the West-Eastern Divan Orchestra (WEDO) in August 1999. Funded by the European Capitals of Culture Programme, the ensemble was composed of young musicians from Israel, the Palestinian territories as well as neighboring Arab States. Initially, a musical training program in the form of a masterclass was merged with multicultural experiences between people traditionally regarding each other as enemies. The orchestra now comes together for a yearly summer workshop as well as political discussions, guest lectures and other cultural activities, followed by an international concert tour.
With this project, Barenboim expressed his hope that by "hearing the painfulness of the other side for the first time, they think about the past and the suffering that has lasted so long." By sharing a music stand and performing side-by-side, occupier and occupied would share also their histories and their politics. Initially a youth orchestra, the orchestra since 1999 has developed into a major player on the international music circuit. At the same time, seminar-room discussions and philosophical dialogues have become fewer and more of a routine. Enthusiasm among the musicians has somewhat cooled down as the players grew older.
Barenboim works with four orchestras regularly, but it is the Divan musicians that he calls "my people". While touring, they live in "The Sovereign Independent Republic of the West-Eastern Divan".
But despite critical voices "There's a lot of heat, but they never resolve anything", Barenboim kept and still keeps trying to reconcile the irreconcilable. Holding both Israeli and Palestinian nationalities and owning a house in Jerusalem, he constantly got himself in trouble with Israel. He was accused of "cultural rape" for performing Wagner during a concert in Tel Aviv, and was called "a real Jew hater" by a government minister.
For his part, Barenboim called the Israeli occupation of Gaza and the West Bank "immoral" and even backed a boycott of the Israeli government.
---
"I don't consider myself a political person – I don't try to make contacts or get the cellular number of a minister!"
Daniel Barenboim
---
Far away from military or strategic considerations however, Barenboim´s goal was simply to change perceptions concerning "the others": The "enemy" might just be another human being, sharing a moment based on music. 
All the while, Barenboim´s actions are outside of political spheres and are not sponsored by a protagonist in the Israeli-Palestinian conflict. West-Eastern Divan Orchestra does not receive any subsidies from either Israelis or Palestinians.
Politics against Music: Performing music is a search of the absolute, without any compromise or concessions. Doing politics is the opposite: "The politician is the master of the compromise. In music, you can accept everything except the compromise" (Daniel Barenboim, 2013)
---
"I am a musician, not a politician"
Daniel Barenboim in an interview with Al-Jazeera, 2013
---
Another important stance in the work with the Divan orchestra is the distinction orchestra versus normalization. Barenboim does not follow the official Israeli standpoint: maintaining the status quo or the de facto recognition of illegal settlements as an integral part of Israeli territory. On the contrary, musical experience in the orchestra does not relate to any political terms but instead creates complete equality between its members.
At the same time, Barenboim created the equality among his musicians and the autonomy of his project not as a result of celebrity diplomacy. While he does have friends among high-ranking politicians such as Felipe Gonzáles (Spanish Prime Minister from 1982-1996) or Joschka Fischer (German Foreign Minister 1999-2005), he does not use his status in the same way as celebrities like Angelina Jolie or Bono. Indeed, he keeps staying away from politics rather noticeably: when Barenboim opened the new Pierre Boulez concert hall in Berlin on March 4, 2017, he did not allow any speeches by government officials during his three-hour opening concert, despite the presence of the German President Joachim Gauck and despite the fact that the Federal government covered more than €20 million of construction costs.
As Daniel Barenboim turns 80 this month, the Israeli-Palestinian conflict has largely disappeared from daily news broadcasts in the face of the war in Ukraine and the growing global economic crisis. But the key issues in Ukraine and many other regions in the world remain the same, and Barenboim´s efforts, his convictions, his goals have become ever more important.
©WFIMC 2022 /fr