Conducting Highlights in Trondheim
After an exciting week of excellent music making, Princess Astrid International Competition declared its 2022 winner to be Alvin Ho from Hong Kong.
Described as "a thoughtful musician, extremely well prepared and meticulous in his approach" by the late Bernard Haitink, Alvin Ho was recently named Assistant Conductor of Naples Philharmonic Orchestra (FL, USA). He also enjoys a close relationship with Riccardo Muti, whom selected him as a student in 2018 and regularly invites him to observe his rehearsals with the Chicago Symphony Orchestra.
While in 2021 the competition had to be held online except for the finals, 2022 became all live again and 12 candidates were able to travel to Trondheim and to conduct the Trondheim Symphony Orchestra. At the final on 18 August, three conductors performed at Olavshallen, all three of them conducting the 2013 work "Masquerade" by Anna Clyne, who is among the most played of the world's living composers.
Masquerade was commissioned for Last Night of the Proms in 2013 and is inspired by the promenade concerts in London's amusement parks in the 18th century, where people from all walks of life were entertained by music, acrobatics, exotic street performers, dancers, fireworks and costume balls.
In addition to the regular competition rounds, prominent jury members gave popular Q&A sessions open to competitors and the general competition audience.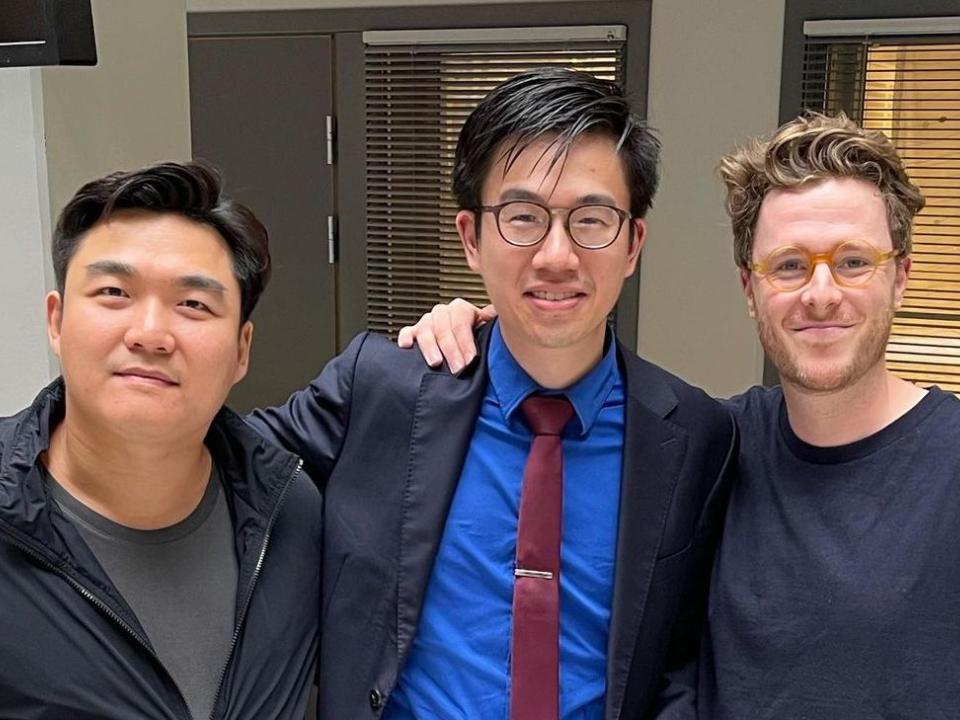 The three finalists- before their performances
Her Highness Princess Astrid of Norway
Winners:
1st Prize: Alvin Ho (29), Hong Kong/ Great Britain
2nd Prize: Toby C Thatcher (33), Great Britain/ Australia
3rd Prize: Junping Qian (32), China
Jury:
Han-Na Chang (Chair), Jasper Parrott, Peter Szilvay, Daniel Turcina, Anna-Maria Helsing, Anna Clyne, Elise Batnes
Princess Astrid, who lives in Oslo, was not present in person at the presentation of this year's award. This did not, however, prevent the Princess from sending a personal video greeting.

Princess Astrid said: "As I unfortunately do not have the opportunity to be with you tonight, I am sending you a greeting instead. The music award that bears my name has been important to me throughout my life. I have followed it with great interest and I am hugely impressed by the young musicians that we have had the chance to experience over time. This year the competition is between outstanding young conductors from all over the world. I am sure that you will have a great experience, which I would very much like to be there and share with you. I would like to congratulate those who have made it all the way to the final and send an extra tribute to the conductor who walks away with the victory."

Princess Astrid International Music Competition was established in 1953 and is the longest running music competition in Norway. It is held biennially, disciplines alternating between violin and conducting.
Former chief conductor of Trondheim Symfoniorkester, Finn Audun Oftedal, founded the competition in order to give young musicians an opportunity to show their talent. Several of the prize winners throughout the years have gone on to becoming internationally renowned musicians and soloists.

Princess Astrid International Music Competition enjoys the royal patronage of Princess Astrid, Mrs Ferner of Norway. The Princess has since 1956 shown the competition inestimable support not only through the patronage itself, but also in meeting the finalists, attending the finals and presenting the prizes. Decade after decade she continues to be an active patron and a wonderful ambassador of the competition.
In 2012 there were made two significate changes to the competition. Instead of disciplines rotating between most solo instruments, it was now decided to alternate between violin and conducting only. In addition the competition went from being national to becoming international. Still, the national perspective of founder Oftedal is kept relevant through the fact that Norwegian candidates now have the opportunity to measure themselves against peers from all over the world. Today the Princess Astrid IMC enjoys a growing presence on the international music competition scene.