Celebrating Fritz Kreisler
WFIMC talks to Fritz Kreisler Violin Competition President Michael Frischenschlager
WFIMC: 2022 marks the 60th anniversary of Fritz Kreisler's death and the 10th edition of the Kreisler Competition. You yourself have been working for this competition since 1979. What is it that keeps you going and enthusiastic about this great event?
Michael Frischenschlager: Our goal was always to establish an act of homage to Fritz Kreisler, making both the younger generation and the audience aware of his significance as a musician, artist, and human being as well as of his origin in the unique cultural environment of Vienna at the turn of the 20th Century.
As the President of the Fritz Kreisler Violin Competition since 1989 I have struggled all my life for Kreisler's name and reputation over the world. I have been working tirelessly to support young musicians under the name of Kreisler. I dedicated more than 40 years of my life to make the Fritz Kreisler Violin Competition a reference point for young violinists, and I didn't lose my enthusiasm.
Since this year is the 10th edition of the competition and the 60th anniversary of Kreisler's death, we want to pay tribute to his legacy with some important events, among others we will feature keynote talks by noted musicians, an exhibition at the MDW Vienna University for Music and Performing Arts showcasing documents, pictures, scores, and audio-visual material, and a documentary film.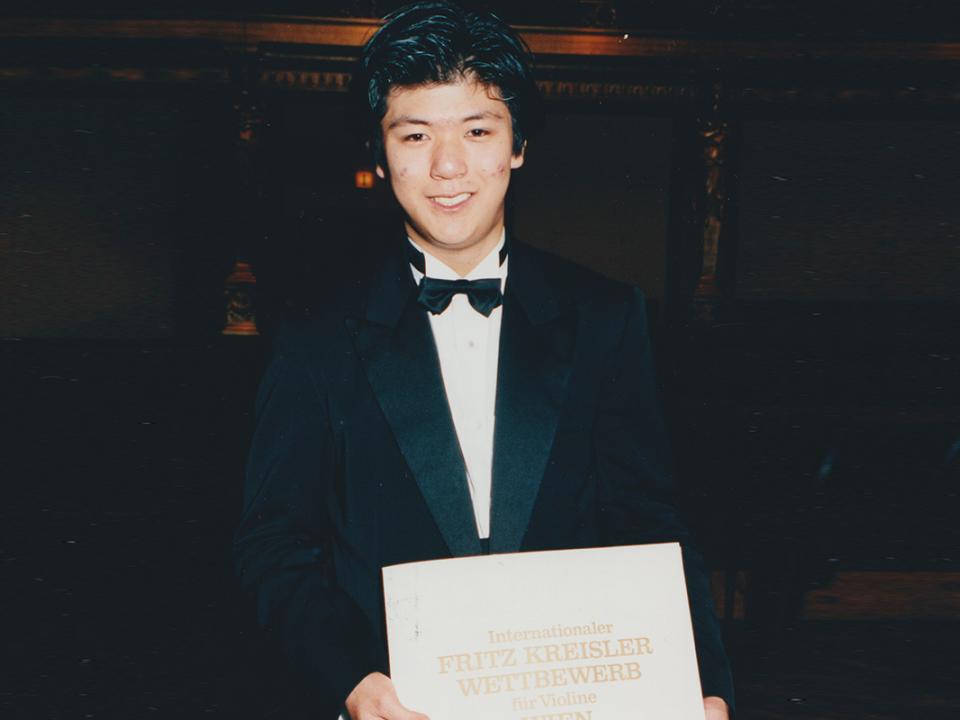 Daishin Kashimoto, First Prize (1996)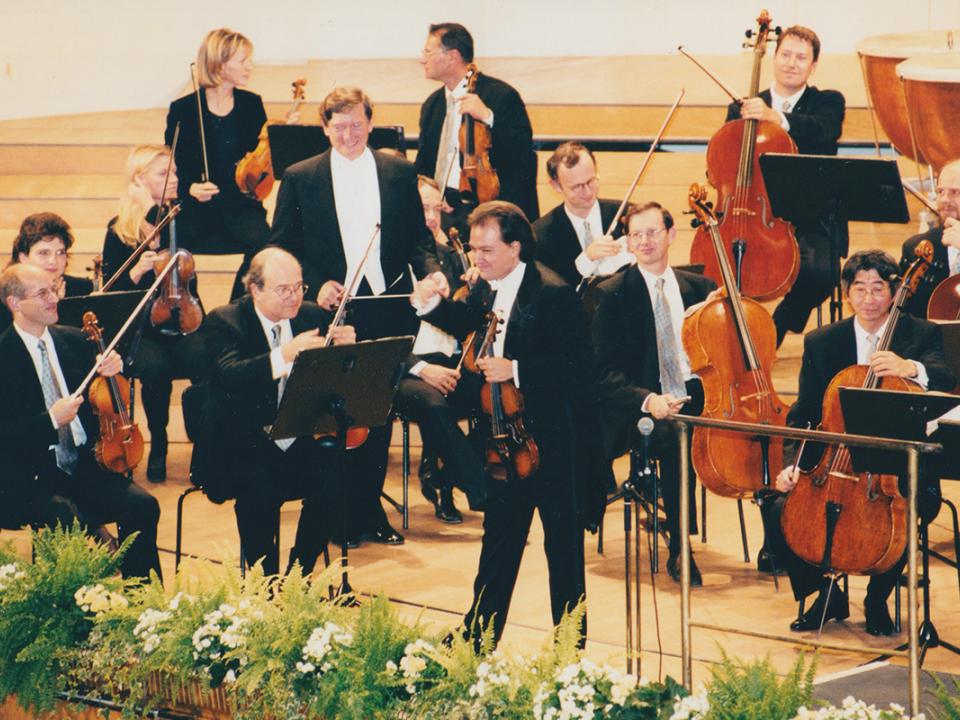 Sergei Krylov, First Prize (2000)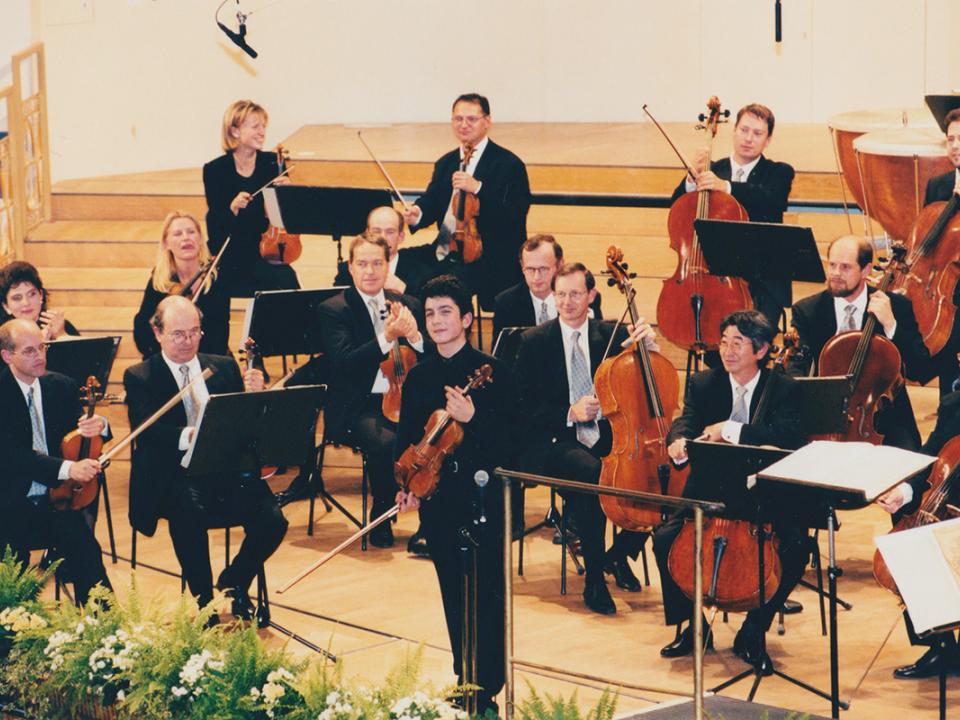 Sergey Khachatryan, Second Prize (2000)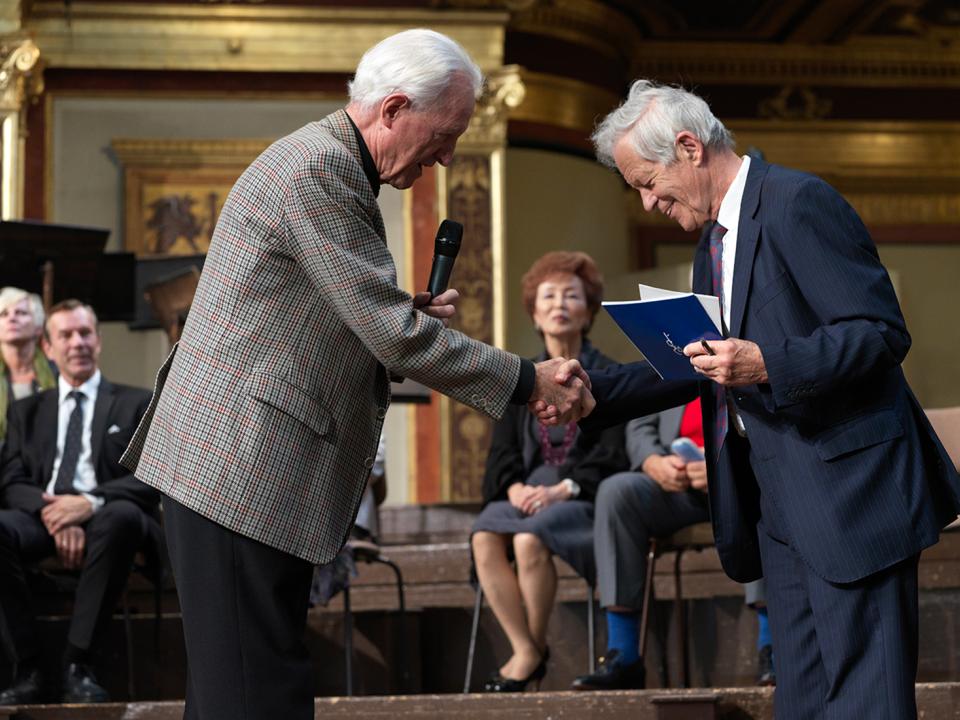 Michael Frischenschlager (President of the Kreisler Competition) with Klaus Heymann of Naxos
WFIMC: Most people know very little about Fritz Kreisler- only some much-loved virtuoso violin pieces. What kind of personality was Kreisler, and what does he mean to you?
Frischenschlager: It is maybe true, unfortunately, that today young violinists are no longer interested in deepening their musical culture. Kreisler, as a composer, is performed by millions of violin players, from the childhood and during their whole life. The name 'Kreisler' is familiar to every violin player, professional or not. But probably you are right, they don't know much about the person behind that name. First of all, Kreisler is regarded as one of the greatest violinists of all time. He was loved by audiences and revered by critics and colleagues. As a child he met César Franck and Sigmund Freud. During his youth, he was part of Brahms' outer circle. He used to perform with Sergej Rachmaninov, and got to know Bruch, Elgar, Dvorak, etc. He was a close friend of Ysaye, Thibaud, Heifetz, to name only the greatest. During his whole life, Fritz Kreisler was a philanthropist. He generously helped war orphans and refugees and played charity concerts. He was known for his charitable contributions, he donated money, manuscripts, and with his talent and music he helped to create a better world.
Today more than ever, our competition is a symbol of cultural diversity and tolerance, and a remembrance of the tragedy that occurred in Central Europe during the 20th Century, when many scientists and artists such as Kreisler were forced to flee as a result of racism and dictatorship. I hope that everything I said above stimulates the curiosity of those who read this interview.

WFIMC: Kreisler had a very colourful life- can you share an anecdote or two to remember him?
Frischenschlager: Fritz Kreisler experienced the First World War as a soldier in 1914. He was wounded and injured and laid in the trench for seven hours before being picked up. Some publications even reported that he had been killed. His injuries were serious enough to allow him to be exempted from further service. He decided then to return to New York to begin a concert tour that had been planned before the outbreak of the War. Well, anti-German feelings were so high that he was forced to withdraw from his tour, not being able to perform until the end of the war in 1919! You know, that is something significant in this very specific moment, the history has a tendency to repeat itself. In fact, Kreisler faced for a second time discrimination during World War II. In 1914, because he was Austrian; in 1934, because he was Jewish. We need to learn from history.

WFIMC: Vienna is considered (one of) the musical capital of the world, but its music competitions are less well known than others in, say, Brussels, Leeds, Fort Worth, Helsinki… why is that, and why people should think otherwise and come perform at the Fritz Kreisler Competition?
Frischenschlager: We don't think that the Fritz Kreisler International Violin Competition is less well-known, actually. Let me please remind that in only nine editions, we have an unusual number of top winners with worldwide careers. Well, I would like to see how many competitions have same percentage of success. The first prize of the very first edition is Dmitry Sitkovetsky, a 25-year-old violinist in 1979, who came from a family of three generations of musicians; his father won several international competitions and had established himself as a violinist and his mother is the legendary pianist, Bella Davidovich. In 1992 Rachel Barton, an outstanding American young violinist, won the second prize; she is now a leading violinist in the US. In 1996 Daishin Kashimoto, currently first violin of the Berliner Philharmonic, won the top prize. In 2000, Sergej Krylov won the competition, starting an outstanding virtuoso career. And what to say of the young Sergej Khachatryan, who won the same year the second prize, followed by top prizes at the Queen Elisabeth and Sibelius competitions? Our winners Emmanuel Tjekhnavorian and William Hagen in 2014 started wonderful careers in the last 6 years, and I can go on with our winners Nikita Boriso-Glebsky, Aylen Pritchin, Letizia Munoz Moreno, Fanny Clamagirand, Florin Croitoru, all very respected and virtuoso violinists. You ask me why young musicians would come to perform to Vienna? Well, first of all, think how visionaries our jury members always were, awarding top prizes to violinists who had a real potential to become stars.

WFIMC: Has your competition changed during the years of pandemic? What is special about the current edition?
Frischenschlager: Luckily our competition takes place every four years and last edition was in 2018, so we didn't plan any edition in 2020/2021. We see that this year the pandemic is under control, with few cases ending up in hospitals. As it happened in the last two years, during our summer months we didn't face any restriction. Even in 2020 - without vaccines and still shocked by the fact of being in the middle of the worst pandemic of the last 100 years, summertime was quiet. Since our competition takes place in the middle of September, right after summer, we are confident that Austria will keep its restriction-free policies. We are aware of our current hard times and all challenges - all together: the current geopolitical situation, the restrictions in China, etc. For those reasons we decided to postpone our submissions' deadline to May 16, in the hope that some things may change by then. We really hope for a better world, even if it seems a dream right now.