50 Years of Excellence
An interview with Paloma O´Shea, on occasion of the final Santander International Piano Competition
WFIMC: Looking at the history of your competition seems like turning pages of a music history book. What began in 1972 as a National Competition to support and encourage Spanish pianists, has become a major international event, well known anywhere in the music world. Still, you have decided to bring this fabulous competition to an end. Why? Is there a new project that will replace the one in Santander?
Paloma O´Shea: The Santander Piano Competition has just completed 20 editions and turned 50 years of life. I believe that it is a respectable age and a good moment to close the cycle. In this time, the Competition has served as an artistic platform to hundreds of pianists from all over the world and has helped to launch the city of Santander on the international scene. I think we can say that the mission is accomplished. It is now time to concentrate my energies on other programmes, such as the Reina Sofía School of Music, the International Institute of Chamber Music, both based in Madrid, as well as the Encounter of Music and Academy, which takes place in Santander every July.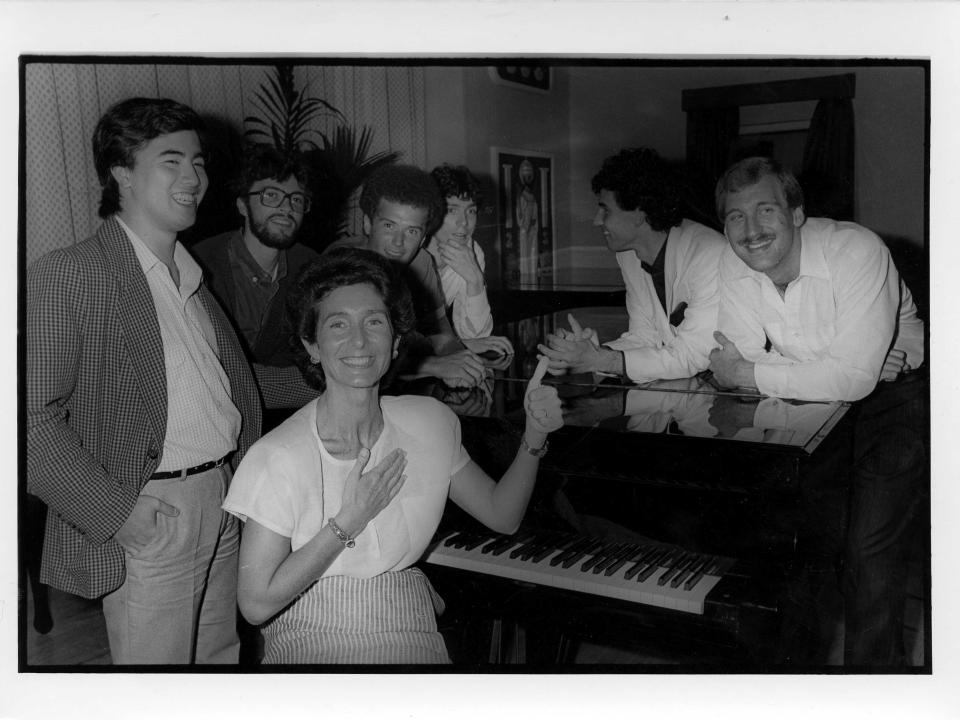 Paloma O´Shea in 1987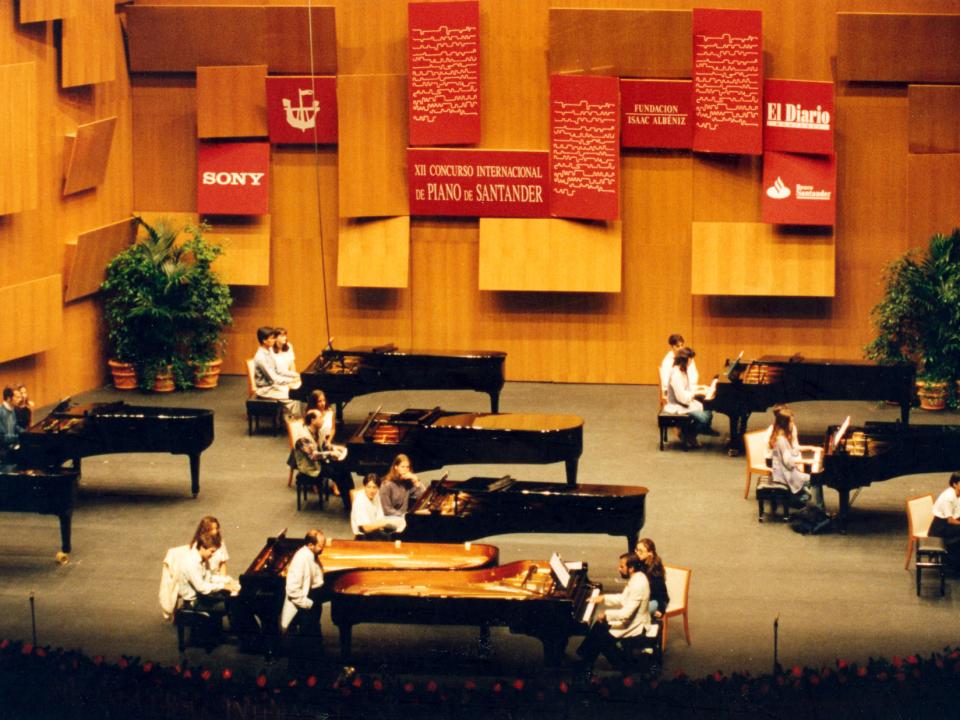 A Piano Spectacular in 1995
Paloma O´Shea and her jury in 2002
Paloma O´Shea in 2012
It may seem like an overstatement, but let me assure you that, without Paloma O'Shea, the musical landscape of my country (Spain) would be dramatically different -most likely, not as good as it is now.
She has been a constant pushing force for the musical business of our country, indeed, but above all, she has been a sponsor of young generations, one after another, through the foundation of the Escuela Reina Sofía in Madrid and, of course, the creation of the Concurso de Santander. Thanks to this prestigious international piano competition, numerous pianists from around the world have been able to boost their careers (or even start it from scratch), becoming a turning point in their lives.
I am lucky enough to count myself among those pianists who were able to benefit from such a competition. As with the best competitions of the world, winning wasn't the only thing which helped me in this tough business, but also the numerous tours and concerts which came afterwords, thanks to which I travelled around the world for more than three years. I consider those years truly my formative years as a professional concert pianist, and I will always be in debt to the competition's whole team and, especially, to Paloma O'Shea.
Now that this competition is (sadly) over, we who won this competition throughout the years have the duty of enduring its legacy through our craft and bringing its name beyond its lifespan.
Juan Pérez Floristán (Winner of the 2015 Competition)
---
WFIMC: Can you tell us a little about your plans, your expectations, your feelings when the competition first took place 50 years ago? 
Paloma O´Shea: I remember it very well. My objective was twofold: to help young pianists to take their first steps in their careers and to musically enrich the city of Santander, which then had much less cultural life than it does nowadays.
WFIMC: 20 Editions are a lot…. You must have so many memories, so many great performances, encounters, conversations with great artists over the years. Can you tell us what comes to mind first when you look back?
Paloma O´Shea: I am very proud that the Competition has supported wonderful pianists, including Barry Douglas, Ramzi Yazza, our dear Marc Raubenheimer, who passed away very early on, Eldar Nebolsin, who has become a world-class professor, or more recently, Boris Giltburg, Juan Pérez Floristán, and Dmytros Choni. I would especially like to highlight our last winner, the young Canadian Jaeden Izik-Dzurko, who I think is going to have a great career.
Many international figures have also offered us the honour of participating as Jury members. Wonderful pianists such as Alicia de Larrocha, Rosalyn Tureck, Maria Tipo, and Eliso Virzaladze came to Santander, and Harold C. Schonberg, Gary Graffman, and Joaquín Achúcarro have been presidents of the Jury. In addition to being great musicians, all of them proved to be exceptional people, and having them in Santander for a few weeks was an unforgettable experience.
---
Dña Paloma means so much to me…  When she created the Santander Piano Competition, she realized that the level of piano playing in Spain was very low. She wanted to give young Spanish artists a chance, see them alongside the very best in the world. So she founded the Reina Sofia School in 1991. Back then, it was small- only string players and piano, with few students. Today, it is huge! They have some of the best teachers in the world, and their diplomas are equal to those by other universities. Several generations have studied there and have become great performers or professors themselves. Her dream really has come true.
Paloma has very strong principles. She has never lost faith in these principles, whether she had to fight against the system, unflexible conservatoires in the early days, or when she had to raise money. She was- she is!- active everywhere in the world, and I am so grateful for her incredible efforts.
Without her, I would not have had the chance to study violin at such high level as at the Reina Sofia. Without her, I would not have met my colleagues, and without her, the Cuarteto Casals would probably  not exist the way it does today!
Vera Martinez, Violinist of the Casals Quartet (Guest Artist at the 2022 Santander Competition)
---
WFIMC: A few more specific questions on the competition...
In 1990 you abandoned the second and third prizes and rather had only "finalist prizes", but a few years later this change was reversed. Why?
Paloma O´Shea: At the Santander Competition, everything we do is for the benefit of the young pianists. Throughout these 50 years, we have been introducing small variations in the award structure until reaching a stable one, always with the aim of providing a better service to the winners.
WFIMC: In Santander, unlike in most other places, finalists also get to perform with guest orchestras (and guest ensembles), some of them rather well-known. Tell us a little more how you built this tradition and how you brought the orchestras to Santander.
Paloma O´Shea: Santander is a competition, but also a great piano festival. In addition to competing, the participants make music for an experienced audience. We have always considered all stages with the artistic dignity that a concert has, and that is why we have made great efforts to multiply the number of ensemble, chamber, and orchestra performances. Also, to count on collaborators of international prestige: orchestras such as London Symphony, Spanish National Orchestra, Radio Televisión Española, and the Dresdner Philharmonic; Maestros including Frühbeck de Burgos and Juanjo Mena, as well as quartets like Casals, Quiroga, Takács, and Chilingirian.
---
---
WFIMC: Looking back, how has the level of piano playing changed in Spain over the past 50 years?
Paloma O´Shea: The change is radical. We have always had good pianists, such as De Larrocha, Achúcarro and Orozco, but they were rare genius cases. Nowadays there are many young people who play wonderfully and who have been trained in schools including the Reina Sofía and some of our conservatories, which have been able to evolve and provide first-class teaching. The competition has, I believe, helped to inspire them. Now is the time for education.
WFIMC: You are involved in so many organisations and projects- a huge engagement for music and musicians not only in Spain. What are your plans for the future?
Paloma O´Shea: As I told you, I am devoting all my energies to educational projects: the Reina Sofía School of Music, the International Institute of Chamber Music, and the Santander Encounter. All three of them are also artistic projects, with hundreds of concerts per year, because I think music education should start in the classroom, but always end on stage.
©WFIMC 2022/fr
Not a member yet? Subscribe to the WFIMC Newsletter here!