Vercelli - Gian Battista Viotti International Music Competition
The Gian Battista Viotti Competition was established in 1950 by Joseph Robbone, musician and composer in Vercelli, who has been its heart and soul and tireless driving force until his demise in 1985.
Since 1957 it takes part to the exclusive committee (11 members) of the founders of the World Federation of International Music Competitions of Geneva that unites and regulates the major international music competitions. Besides, it is the only competition in Italy – and one of the few at international level – that yearly features several sections, which indeed resemble separate and independent competitions in themselves as for the period in which they take place, their prizes, and the members of their jury.
With the Piano (1950) and Voice (1951) sections as the basis, the Competition has featured – in different years – Violin, Chamber Music, Oboe, Guitar, Bassoon, Trumpet, Dance, and Composition sections, for a total of 19 sections. Until 1984 the Viotti Competition has also included a Dance Section.
Since 2006 the Competition alternates, every other year, the Opera Singing and Piano competitions.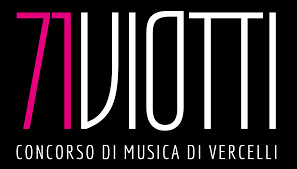 Addressed to those young artists who aim at starting up in an international music career, the Viotti Competition is under the High Patronage of the President of the Italian Republic and under the sponsorship of the Regione Piemonte, the Città di Vercelli, and the Ministry of Cultural Heritage and Activities.
Members of the juries have been, among others: Carlo Maria Giulini, Yehudy Menuhin, Arturo Benedetti Michelangeli, Franco Corelli, Massimo Mila, Piero Rattalino, Birgitt Nilsson, Carl Orff, Aureliano Pertile, H.C.Robbins Landon, Elizabeth Schwarzkopf, Renata Scotto, Joan Sutherland, Mariano Stabile, Galina Ulanova, Virginia Zeani, Paolo Montarsolo.
Thousands of artists have competed in the Viotti Competition and many have enjoyed brilliant careers, such as Liliana Cosi, Luciana Savignano (Dance), Joaquin Achucarro, Cecile Ousset, Daniel Baremboim, Claudio Abbado, François Joel Thiollier, Rafael Orozco, Pavel Gililov, Boris Bloch, Angela Hewitt, Jean Yves Thibaudet (Piano), Salvatore Accardo, Reiko Watanabe, Domenico Nordio (Violin), Piero Cappuccilli, Raina Kabaivanska, Mirella Freni, Leo Nucci, Renato Bruson, Luis Alva, Giuseppe Giacomini, Luciano Pavarotti, Sumi Jo (Voice).
Contact
Pietro Borgonovo
Via Monte di Pieta 39
13100 Vercelli
Italy
info

[a]

concorsoviotti.it
Send message