Tongyeong - ISANGYUN Competition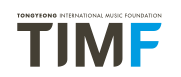 The International ISANGYUN Competition has been presented by the Tongyeong International Music Foundation since 2003.
It is held in remembrance of Isang Yun (1917~1995), the renowned Korean composer, by promoting cultural exchanges among nations through music, and by supporting talented young musicians from all over the world.
The Competition is held annually in November, alternating between the disciplines Piano, Violin and Violoncello. 2023 will see the discipline Piano.
Contact
EJ Jang
38, Keunbalgae 1-Gil
Tongyeong, Gyeongnam
53079
South Korea
Send message