Shanghai - Isaac Stern International Violin Competition
SISIVC, the first world-class violin competition in Shanghai, was launched in 2015.
Taking its name from the distinguished violinist Isaac Stern, the Competition aims to continue the legacy of Maestro's musical spirit and carry forward the forty-year-long friendship between him and China bonded by music.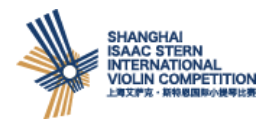 Since September 2015, the Competition has seen its global launch, candidate recruitment, DVD Pre-selection and eventually the opening in the summer of 2016, breaking a new record of its kind with the 3-week, 25-session and nearly 80-hour length.
As a competition held in China, its repertoire would include a Chinese piece in the final round .
The staggering artist line-up includes the jury consisting of 13 distinguished musicians and pedagogues as well as over a hundred players of the Shanghai Symphony Orchestra to perform with the contestants.
Contact
Cherrie Chen
N°1380, Middle Fuxing Rd
Shanghai
200031
China
adminoffice

[a]

shcompetition.com
Send message