Saint-Petersburg - Elena Obraztsova International Competition of Opera Singers
The competition is held by The Elena Obraztsova Cultural Centre and The Charitable Foundation of Support for the Music Art The Elena Obraztsova Foundation.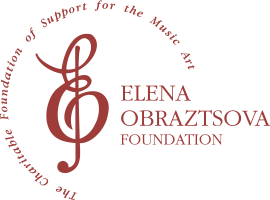 About 1,500 young performers from 30 world countries have taken part in the competition over the years of its existence. Its laureates and Prize Winners included celebrated singers of the national and world opera stage such as Julia Lezhneva, Ildar Abdrazakov, Lyubov Petrova, Marina Poplavskaya, Ekaterina Semenchuk, Irina Lungu, Ekaterina Syurina, Georgy Gagnidze, Vitaly Bily, Oksana Shilova, Mikhail Petrenko, Elena Maximova, Dinara Alieva, Alexei Markov, Oksana Kramareva, Alexander Tsymbalyuk, Olga Pudova, Vladislav Sulimsky, Elena Guseva, Roman Burdenko, Alexei Lavrov, Andrei Zhilikhovksy and other remarkable singers.
Since its very establishment, The Elena Obraztsova Competition has set the bar very high. This was facilitated, first of all, by inviting eminent masters of the world opera stage, colleagues and friends of Elena Obraztsova, to the jury. Over the years, the jury included: Fedora Barbieri, Renata Scotto, Joan Sutherland, Gabriella Tucci, Ileana Cotrubaş, Teresa Berganza, Christa Ludwig, Zara Dolukhanova, Fiorenza Cossotto, Evgenia Miroshnichenko, Éva Marton, Giacomo Aragall, Peter Dvorský, Nicola Ghiuselev, Tamara Sinyavskaya, Makvala Kasrashvili as well as vocal teachers and managers of the leading opera houses.
The jury of the Thirteen competition will comprise: General Director of the Opera for Peace International Project Julia Lagahuzère (France); Director of the Ariosi Management Agency Alessandro Ariosi; opera singer, soloist of the Mariinsky Theatre, People's Artist of Russia, Winner of the State Prize of the Russian Federation, Professor at the Herzen State Pedagogical University Olga Borodina (Russia); opera singer, People's Artist of the USSR, Winner of the State Prize of the Russian Federation, Professor at the Moscow State Tchaikovsky Conservatory, Assistant to the Principal Conductor - Music Director of the Bolshoi Theatre of Russia Makvala Kasrashvili (Russia); Director of the Young Artists Opera Program of the Bolshoi Theatre of Russia Dmitry Vdovin (Russia); Casting Director of the Stuttgart State Opera Boris Ignatov (Germany); opera singer Dame Gwyneth Jones (Great Britain); opera singer Bruno Praticò (Italy).
The competition ranks among the largest and most prestigious vocal showcases in Russia and boasts a high international reputation. It is a full member of the Music Competitions Association of Russia, member of the World Federation of International Music Competitions.
All auditions will be broadcast live on the websites of The Elena Obraztsova Foundation and Cultural Centre and social media.
Contact
Natalia Ignatenko
18 Starya Basmannaya St, Bldg 1
Moscow
5066
Russia
n.ignatenko

[a]

obraztsovafund.ru
Send message