Jyväskylä - Ilmari Hannikainen Piano Chamber Music Competition
"It's fascinating that this kind of competition exists and it also feels artistically meaningful" Juhani Lagerspetz, the chair of the international jury 2023 (Keskisuomalainen Newspaper).

Organizer
Foundation for Music Promotion in Central Central Finland (Keski-Suomen musiikin edistämissäätiö sr) in partnership with the Finnish Music Campus, Jyväskylä Sinfonia, and the City of Jyväskylä; with financial help from the Rolando and Siv Pieraccini Foundation.
Location
Jyväskylä, Finland, a university town of 145 000 inhabitants 275 km north of Helsinki in the beautiful lake district of Central Finland.
Background
Ilmari Hannikainen born in Jyväskylä (1892-1955) was a Finnish composer, pianist, pedagogue and chamber musician. As the first piano professor at the Sibelius Academy he founded higher piano education in Finland. Solo piano competitions in his name have been held in Jyväskylä since 1975. In 2020 the format was changed to piano chamber music, and in 2023 participation was opened worldwide.
Venue
Ilmari Hannikainen Hall at the Finnish Music Campus. Orchestra finales will be played at Encore Concert Hall with Jyväskylä Sinfonia.
Next Competition
February 26 – March 5, 2026. Registration by November 15, 2025. Cycle 3 years.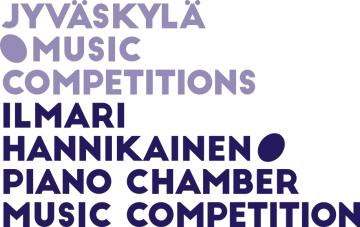 Format
Ensembles worldwide may include piano trios (piano, violin, cello), violin and piano duos, or piano duos either for four hands or two pianos. Ensemble members must be 16–35 years old. Participants qualify by video performance. Repertoire ranges from Viennese Classical Music to commissioned contemporary works. All ensembles compete through three rounds in the same category, and the concerto finales are played together with the Jyväskylä Symphony Orchestra. The competition is streamed live over the internet, and ensembles receive recordings of their performances.
Competition Committee
Chairman Erik T. Tawaststjerna, Professor Emeritus of piano at the Sibelius Academy is a renowned concert pianist and pedagogue, and has served on the juries of numerous international competitions, such as London, Barcelona, Vienna, New York, and many more. The other members are Tomas Djupsjöbacka, Juha Heikkinen, Risto Kyrö, and Eliisa Suni.
Jury
Jury members for 2026 have not been appointed yet. The 2023 jury was chaired by Juhani Lagerspetz (Finland) with Andreas Brantelid (Sweden/Denmark), Johan Fröst (Sweden), Kaija Saarikettu (Finland), and Irina Zahharenkova (Estonia).
Prizes in 2023
1. 10 000 € donated by the Rolando and Siv Pieraccini Foundation
2. 6 000 €
3. 4 500 €
4.–6. Stipend of 1 500 € for each ensemble
Finalists in 2023
1. Trio Brontë: Lili Bogdanova-Essl (Bulgaria), piano; Ava Bahari (Sweden), violin; Annie-Jacobs-
Perkins (USA), cello
2. Piano duo Ihor Sediuk and Oleh Kopeliuk (Ukraine)
3. Fiony Duo: Iora Kama (Japan), violin; Yoshimi Nakamura (Japan), piano
4.–6.
Trio Paddington: Tuulia Hero (Finland), violin; Stephanie Tang (USA), piano; Patrick Moriarty
(Ireland), cello
Cuore Piano Trio: Zuzanna Budzynska (Poland), violin; Jadwiga Roguska (Poland), cello; Szymon
Ogryzek (Poland), piano
Duo Sarasvathi-Nowak: Sebastian Nowak (Poland), violin; Victoria Sarasvathi (Indonesia), piano
Summary of 2023 Competition
20 ensembles representing 21 nationalities took part in the international category in 2023. The technical and artistic level was exceptionally high. Duos and trios, and different instruments competing in the same category was an unusual decision. Cohesion of the ensembles and their skill of playing seamlessly together were the most important criteria for judging such diverse groups. Finales together with a symphony orchestra were a unique and memorable experience for many contestants, as was the beautiful winter weather with lots of snow and sunshine, as well as spectacular shows of northern lights. The youthful staff of Music Campus students guaranteed a relaxed and friendly atmosphere. Press coverage was extensive, and video streaming and radio broadcasts reached record audiences.
Welcome to Jyväskylä in 2026 to enjoy this different, young and fun competition!
For More Information
Foundation for Music Promotion in Central Finland (kesmes.fi)
Finnish Music Campus (musiikkikampus.fi/en)
Jyväskylä Sinfonia (https://www.jyvaskylasinfonia.fi/en)
Visit Jyväskylä Region (https://visitjyvaskyla.fi/en)
Ilmari Hannikainen Piano Chamber Music Competition 2023 Finale Concerts:
(https://www.youtube.com/watch?v=L38ET8uUp0M)
(https://www.youtube.com/watch?v=bDnIPJCcaRM)

Contact
Foundation for Music Promotion in Finland
Anneli Rahn
Pitkäkatu 18-22
40700 Jyväskylä
Finland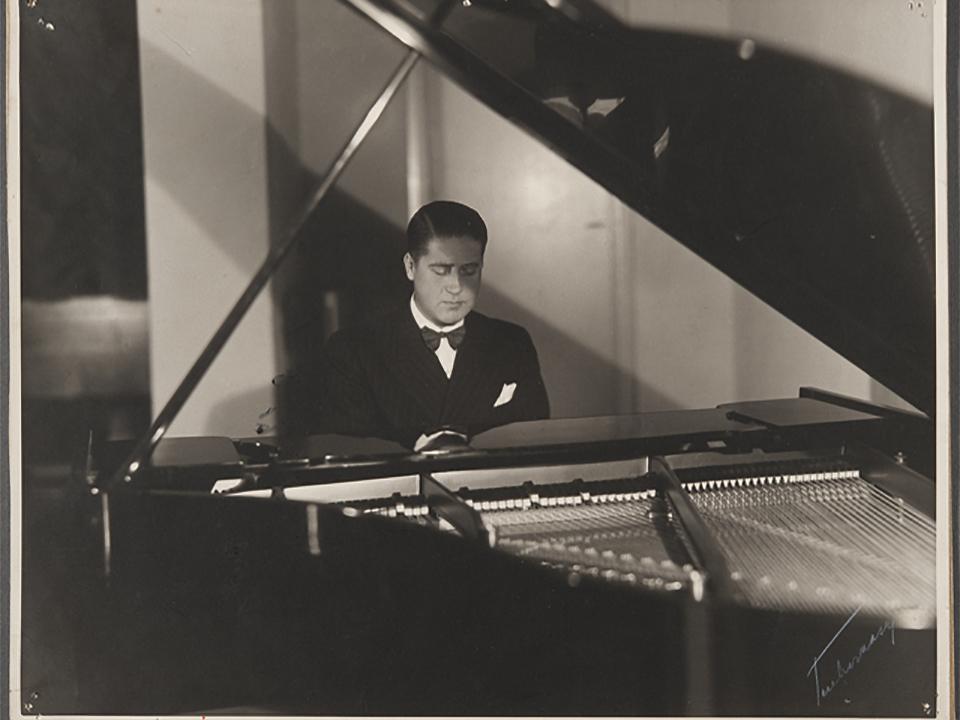 Ilmari Hannikainen, pianist, composer and pedagogue. Photo Finnish Heritage Agency
Duo Sediuk&Kopeliuk in Hannikainen hall. Photo Helvi Kangas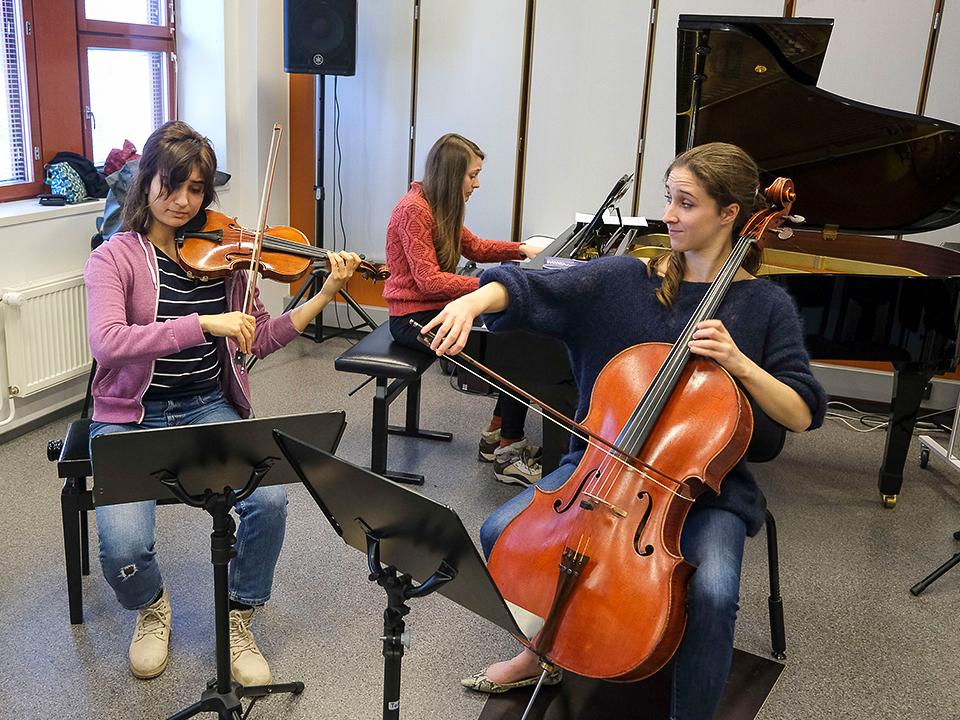 Trio Bronte rehearsing at Finnish Music Campus. Photo Aatu Karjanmaa
Competition info on call. Photo Mikael Minkkinen
Duo Sarasvathi-Nowak at Finnish Music Campus. Photo Helvi Kangas
The cockpit of the Gradia multicam team, Hannikainen hall online. Photo Aatu Karjanmaa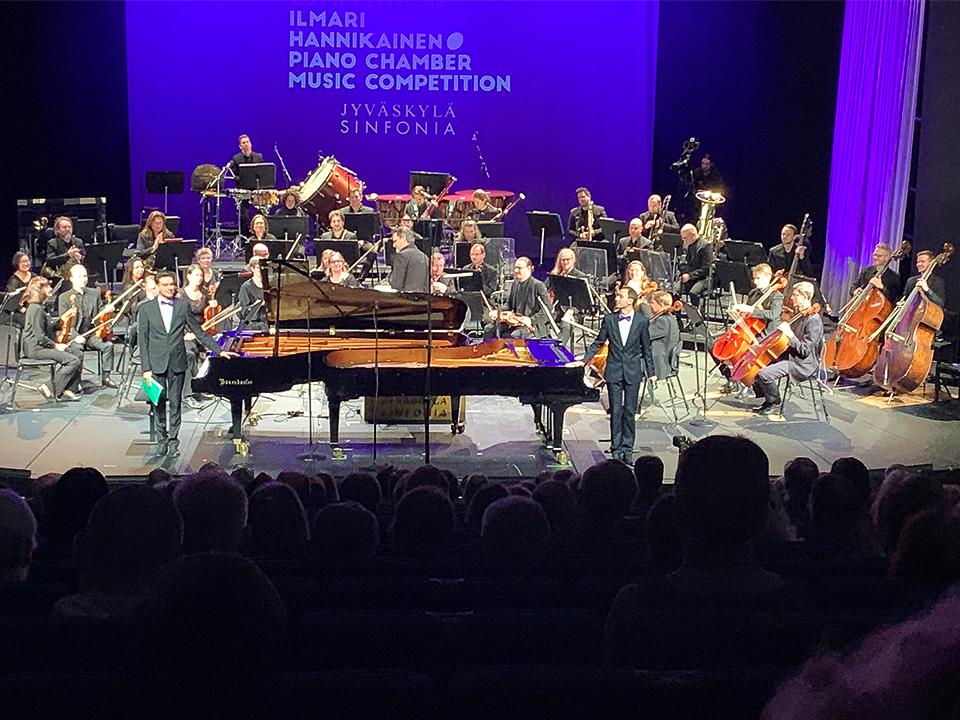 Solists, Jyväskylä Sinfonia and Jan Söderblom. Photo Anneli Rahn
Fiony Duo rehearsing with Jyväskylä Sinfonia. Photo Elli Wessman
The first prize winner Trio Brontë. Photo Pekka Seppänen, Keskisuomalainen
Jyväskylä Sinfonia an Alvar Aalto's architecture. Photo Tuukka Järventausta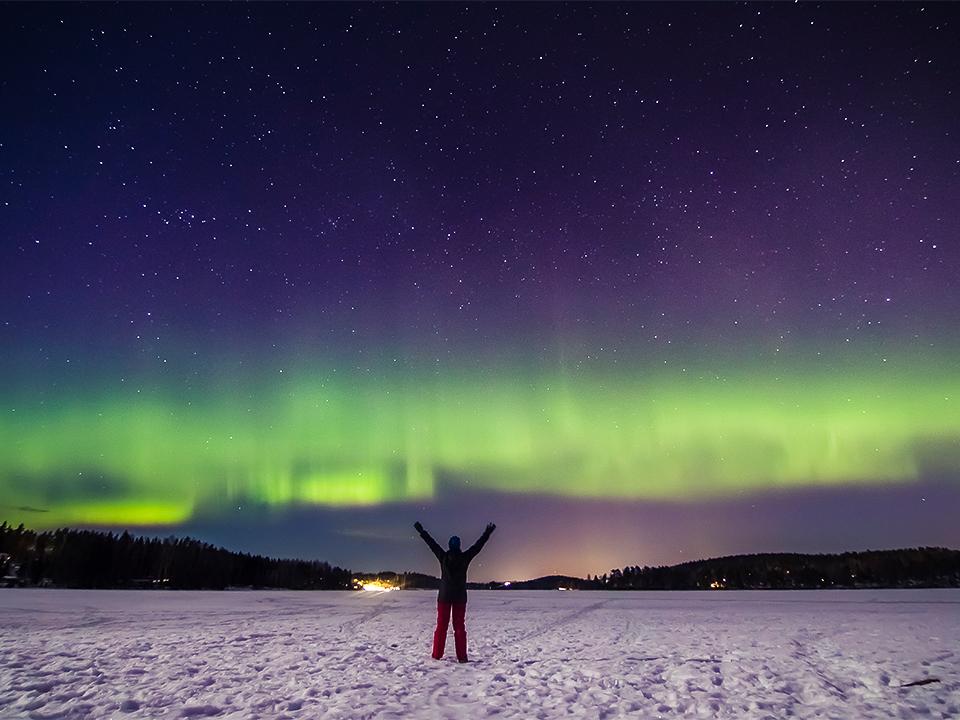 Northern Lights. Photo Ulla Keituri