Bratislava - International Johann Nepomuk Hummel Piano Competition
Johann Nepomuk Hummel (1778–1837), a native of Bratislava, was considered one of the greatests composers and pianists during his life. He studied with Mozart, Albrechtsberger, Salieri and Haydn. As a composer Hummel bridges two epochs. His output comprises almost all significant music genres of the turn of the 19th century (excluding symphony). He excelled most of all in the realm of virtuoso piano music. From the stylistic point of view Hummel unites elements of Late Classicism (being considered its most important representative in his time) with many Early Romantic elements. Thus Hummel is an exponent of the style which follows the legacy of Clementi, Mozart and Beethoven, simultaneously adumbrating Schubert, Mendelssohn, Chopin, young Liszt and Schumann.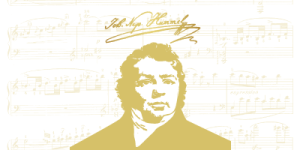 The Johann Nepomuk Hummel International Piano Competition aims at helping the active cultivation of the legacy of this great composer and piano virtuoso. Simultaneously the organizers hope to help young remarkable pianists to start a concert career.
Contact
prof. Markéta Štefková, PhD.
Medena 3
81601 Bratislava
Slovakia
marketa.stefkove

[a]

filharmonia.sk
Send message