Alink-Argerich Foundation
AAF is a unique organisation, offering the most complete details on music competitions ever compiled. By its nature and background, AAF has the widest range of information on piano competitions.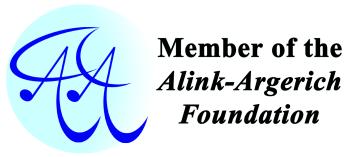 Competitions play an important role in the life of a musician whether one likes it or not. There are more and more music competitions all over the world, delivering a vast array of winners and non-winners every year. Many young talents take part with much expectation and high hopes. Some are rewarded, many are disappointed. It becomes more and more difficult to assess the situation and to evaluate the significance of a prize, the award-winner or the relevance of a particular competition. It is in this respect that AAF tries to make a difference, to help and assist, by offering clear and useful information.
The Alink-Argerich Foundation is there to give information, assistance and advice to musicians and competition organisers. The Foundation maintains a unique collection of competition related materials such as application brochures with the rules and conditions of music competitions and competition programme books.
Contact
Alink-Argerich Foundation
P.O. Box 85600
2508 CH Den Haag
Netherlands
mail

[a]

alink-argerich.org
Send message